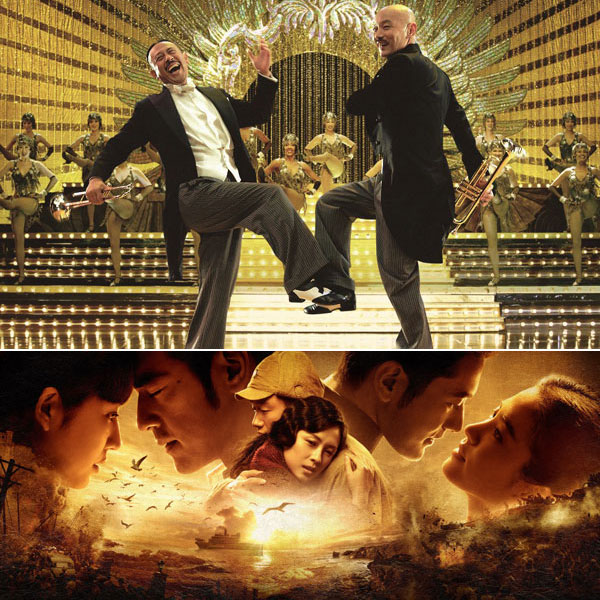 Movies set to be released during the festival season from this month till the end of February include John Woo's romantic epic The Crossing: Part 1(above) and Jiang Wen's Imax 3-D production, Gone With the Bullets (top). [Photo Provided to China Daily]
Han Bingbin reports on the new releases scheduled for the coming holiday season.
John Woo's romantic epic The Crossing: Part 1, set against the backdrop of civil war and the sinking of the Chinese ship Taiping, opened to a warm box-office welcome on Tuesday.
The movie was released at the start of the so-called hesui dang period, when Chinese like to dress up and spend money on entertainment over weeks marked by festivities as Christmas and the New Year leading up to the Chinese New Year.
With the Chinese New Year falling on Feb 19, later than in previous years, this hesui dang is expected to be one of the longest in recent memory, lasting for about 95 days from this month onward.
But for movies set to be released during the period, it's more than just entertainment. Trade analysts had earlier estimated that China's box-office earnings would hit a record 30 billion yuan ($4.88 billion) by the end of 2014. By the end of last month, films had already grossed 26.3 billion yuan.
Even so, achieving the record may be an uphill task.
Despite an interesting storyline and a dazzling pan-Asian cast that includes Zhang Ziyi, Takeshi Kaneshiro and Huang Xiaoming, the much anticipated Woo movie has yet to meet trade expectations.
It made 27 million yuan one day after its release, slightly better than White Haired Witch, a martial art flick that was artistically graded 3.8 out of 10 points on douban.com, China's largest film review website. The Crossing: Part 1 was graded 5.6 by the same site, indicating that reviewers weren't blown away by it either.