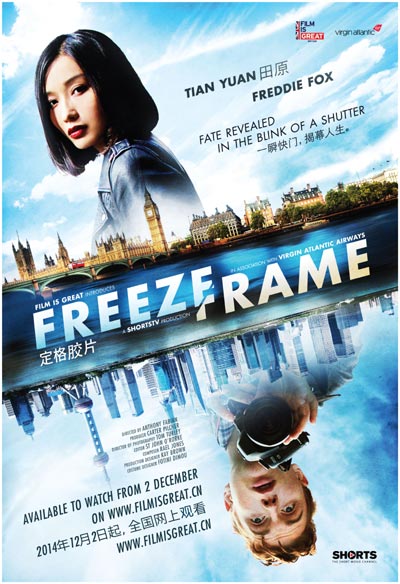 The British micro film Freeze-Frame, which was especially produced for the ongoing inaugural GREAT British Online Film Festival, premiered on Dec 1 at 77 Theater in C and C Park, Beijing.
The festival, which was co-sponsored by Visit Britain, the country's national tourism bureau, and Virgin Atlantic Airways, is bringing more than 50 British features and short movies to Chinese netizens via the video portal, LeTV.
"We try to pack a lot of things into the film within a very tight deadline. As a filmmaker, I just want to tell a good story. It's great to work in so many different and extraordinary locations with such fantastic talent," said Anthony Fabian, director of the film.
Produced by ShortsTV, Freeze-Frame stars Chinese actress Tian Yuan and British actor Freddie Fox. The romantic comedy allows the audience to explore the picturesque views and iconic locations of London, Edinburgh and Shanghai.
Fabian hoped there will be more cooperation between Britain and Chinese in the film industry. He was interested in projects that help improve mutual understanding between two cultures, such as this film.
"The director is very gentle and talented, and I've learned a lot from him and my partner Freddy," said the actress Tian.
She said the weather in Britain is variable. Sometimes when they were saying lines, it was raining, but the next minute, it became sunny. Someone would stare at the cloud above and tell them how long it took the cloud to pass while they were shooting.
They also picked classic scenes from three popular British productions among Chinese — Downton Abbey, Harry Potter and Love Actually and shot in these places.
In recent years, British films and TV series have attracted more tourists to the country. For example, Alnwick Castle, which was the Hogwarts School in Harry Potter, draws many fans every year.
According to research by Visit Britain, 40 percent of tourists to Britain say they are inspired to come and see places they see in films.
Related:
New photos of Fan Bingbing as 'Empress of China'