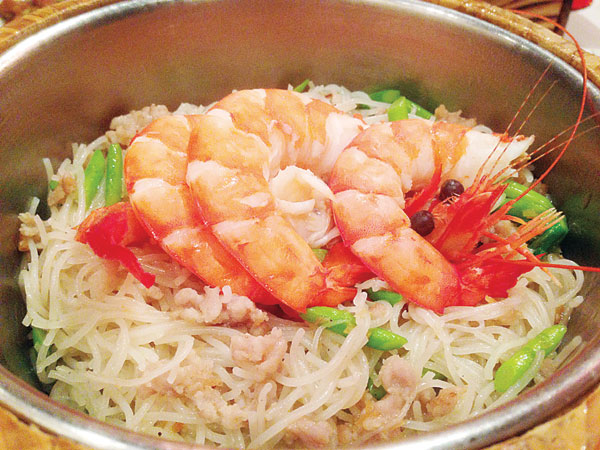 FROM HONG KONG: Chef Ng's Tai-O salted fi sh prawn beehoon. [Photo by Pauline D.Loh/Shanghai Star]
Every Singaporean going home will head for their favorite food stall almost as soon as the plane skids to a stop. Pauline D. Loh shares her favorite food choices from home.
WAH KEE BIG PRAWN NOODLES
Wah Kee has been selling prawn noodles for more than 50 years, starting with a handcart at a temporary market and graduating to a hawker center half a decade later. Through it all, he has stayed in the same neighborhood. The difference is, he has now attained celebrity status and people travel from all over Singapore to stand patiently in line for a bowl of his famous prawn noodles.
The noodles are tossed in a spicy mix of soy sauce, chili and powdered shrimp paste with a generous serving of blanched bean sprouts and kangkong or morning glory vegetables. The prawns are more like mini-lobsters, succulent and sweet. But it is the soup, simmered from pork bones and crushed prawn shells, that remains the major draw.
Wah Kee Big Prawn Noodles is along the inner aisle of the food center at Pek Kio Market, next to Pek Kio Community Center along Owen Road.
BEACH ROAD MARKET KENG HENG TEOCHEW LOR MEE
This braised noodle was originally of Teochew or Chaozhou stock, but like all things Singaporean, lor mee as we call it has been localized. A spoonful of bright red chili paste, a dollop of creamy minced garlic, a scattering of fresh coriander leaves, some fish fritters, one fried wanton, half a hard-boiled egg and several pieces of crispy fish skin crackers, and underneath it all are thick yellow noodles covered in a tasty brown gravy.
Beach Road Market is next to the Army surplus stores. The lor mee stall is on the second level food court.
TAI-O SALTED FISH PRAWN BEEHOON
There is only one place in Singapore that sells this, and only one chef on the island that cooks it perfectly. Tai-O is actually a little fishing village in Hong Kong famous for its salted fish, and Chef Steven Ng from Shangri-La Singapore's Shang Palace created this dish in memory of his homeland. The rice noodles soak up all the flavor of the salted fish and wake the palate with astonishing clarity. Crisp seasonal greens such as French beans or baby asparagus add texture and color, while red succulent prawns furnish the finishing touch. This is worth a pilgrimage.
Tai-O Rice Noodles, Shang Palace, Shangri-La Singapore, Orange Grove Road.