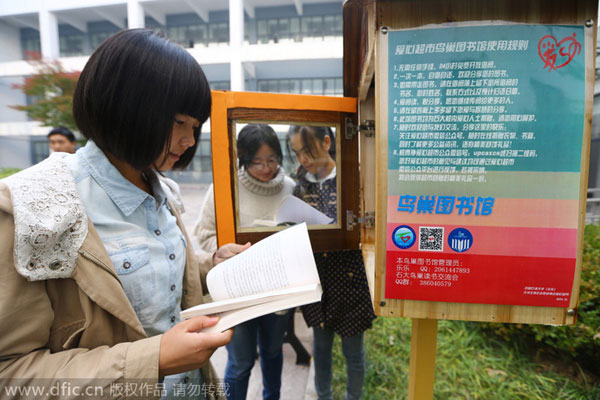 "Bird's Nest" libraries have begun emerging in some Chinese cities such as Xiamen, Nanjing and Zhenjiang. [Photo/IC]
Propping a wooden bird house filled with books on the back of his bike, Yan Defeng cycles around Zhengzhou in central China's Henan province, eager to find a home for his fourth "Bird's Nest" library.
The 36-year-old self-employed man is spreading his joy of reading by distributing the book-filled bird houses as part of the "Bird's Nest" library program inspired by something similar in the U.S. but quickly migrating across Chinese cities.
The clever book exchange allows participants to take a free book from the nest and replace it with one of their own. So far, Yan has created four such libraries, with two already adopted by volunteers.
He also operates his own library, which he began on Nov 1. Every morning he travels to his bus stop and places the bird house in plain sight. In the evening, he travels back to check how many books have been exchanged.
"In the first week, all of the books remained," said Yan. "Then, some people began to take away books and others put books in."
In the past month, 18 books have been exchanged but only three of the original books are left, he said. Titles range from literature masterpieces and historical books to children's books.
"It is worthy to exchange a different book with one a person has read," said Li Meng, a woman in her 30s, who was exchanging a book on Tuesday. "The library is small, but each book has its own value."
Similar lending libraries have begun emerging in other Chinese cities such as Xiamen, Nanjing and Zhenjiang.
At a residential community in Zhenjiang city, Jiangsu province, a "Bird's Nest" library now has books exchanged every day. It was set up in July by Wang Jia, Communist Party chief of the community.
Instead of letting hundreds of books in the community library "lay sleeping", it is a good idea to put the books near the houses of residents, said Wang.
Five more such mini-libraries were installed in the community in September.
The first "Bird Nest" library appeared in Wuxi city, Jiangsu province in January this year.