Raw energy with burnt butter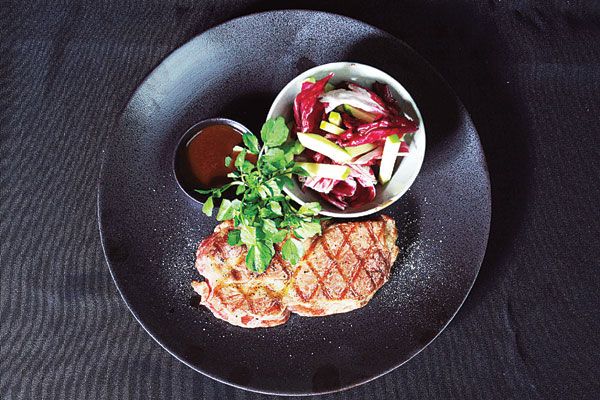 THIS IS PORK?: Succulent pink pork is a rare treat, perfectly complemented by a crisp apple salad. [Photo provided to Shanghai Star]
He needs no introduction to the true Shanghai foodie who is most likely already a fan. Pauline D. Loh looks at the reincarnation of Michael Zhao's food at Husk.
Local magazines were already singing his praises even before their critics tasted the food. As far away as in Beijing, people were calling, asking if I had already been to Husk, opened no more than a month ago along a quiet lane in the Jing'an district.
We had actually walked right past it, and only a few tables set out al fresco gave us a clue that maybe this was it. Winter was gathering, and no one was out and about.
Later, Michael Zhao explains that he was still waiting for his signage to arrive. Still, he hardly needs the signage. On a Friday night, the restaurant was comfortably filled at 7 pm, and most diners seemed already familiar with the menu.
Zhao and his partner, veteran restaurateur Charles Cabell IV, team up a second time at Husk, having collaborated at Mesa & Manifesto, where Zhao scored his culinary brownie points.
He is one of a rare number of Chinese chefs who are showing they have more than what it takes to challenge expatriate chefs, with or without their Michelin stars.
The whole atmosphere at Husk is organic. The décor is comfortable and natural, and there are no high-tech trimmings or cutting edge furniture. In other words, this is a place where you can settle down to the main business at hand without any distractions — to eat a good meal.
The menu at Husk is refreshing, with classics reinvented, and innovations well presented.