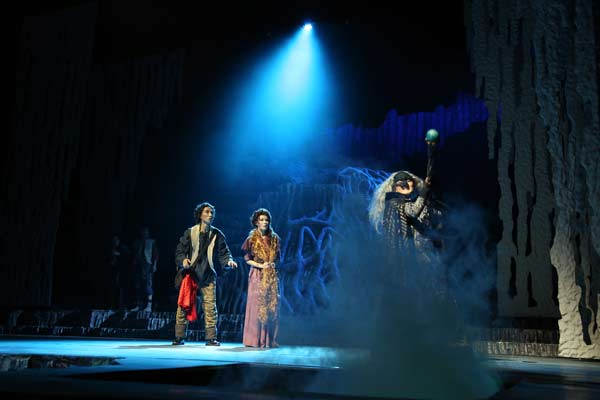 The baker and his wife have to fulfill the tasks given by the "witch" (right) so that they can have a child of their own. Photos provided to China Daily
The Broadway classic Into the Woods has debuted in Beijing for a long run, but musicals seeking audiences in China are not out of the woods yet, writes Raymond Zhou.
When Into the Woods premiered at Beijing's PLA Theater on Nov 8, the lavish set, the lobby decor and the wall-to-wall posters outside the house were jaw-dropping for the audience. But for professionals, it was the length of the run, 100 performances till the end of January, that truly took industry insiders' collective breath away. It is short by Broadway or West End standards, but in China, only revues at tourist hotspots command the consecutive number of shows in the three digits.
Even Mama Mia, arguably China's most successful musical commercially, did not open with such a long run. It and a few others, like Avenue Q, had a cumulative run of over 100 performances in China, including touring shows in different Chinese cities.
That is a risk the production company, Ovation Culture Development, is willing to take. While the company was founded just a year ago, many of its core members are veterans in China's musical scene and their vision is reflected in the selection of their first salvo in the market.
"By selecting Into the Woods, we want to send a message that what we care most is the quality of what we present," says Li Bing, producer of the Chinese production.
Into the Woods, a multiple Tony Award winner, is not yet a household name in China, and its music is widely considered difficult, "but we want to set a high standard", says Li. The musical is child-friendly as it incorporates several Brothers Grimm fairy tales, such as Little Red Riding Hood, Jack and the Beanstalk, Rapunzel and Cinderella, but probes the dark side of these tales, especially in its second half, which may challenge some audience members accustomed to the Disney treatment.
Ovation can afford to take this risk. It is backed up by an energy company intent on entering China's budding culture industry. Based in Langfang, an eastern suburb of Beijing, it is embarking on several mammoth projects, of which the musical production company is just one piece. They include a 190,000-square-meter performing arts complex with a 1,800-seat grand theater, a 1,200-seat medium-sized theater, a concert hall and two small theaters, two theme parks devoted to the classic novel Dreams of the Red Mansion and the Silk Road respectively.