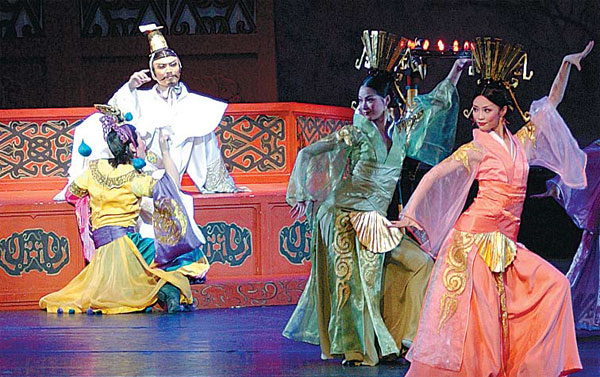 The Terracotta Warriors show on tour in North America. Photo provided to China Daily
Witnessing a first occurrence of anything in human history is rare and for something to happen first in Beijing is also a feat that is hard to fathom.
Yet, on Sept 2, the action-musical, Terracotta Warriors 3D, will open at the Da Yin Theater in Beijing and will be the first 3D theatrical performance in the world.
No other show has ever combined 3D set design, high definition 3D motion pictures and a troupe of live-action performers on stage.
The 3D theatrical production will be made possible by the use of a high-definition LED video wall that will give the audience a 3D viewing experience using common polarized 3D glasses.
The new technology was created, manufactured and patented in China by Li Chao, a professor at Zhengzhou University.
Terracotta Warriors 3D is expected to immerse the audience in an entertainment experience that has never been attempted before on stage.
The unprecedented theatrical concept is made possible by both the creative and financial resources of Sight, Sound & Action, a theatrical production company headquartered in the United States in Denver, Colorado.