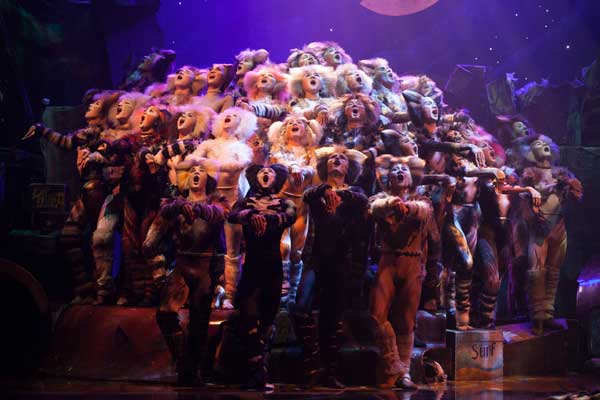 The Broadway musical Cats, performed in Mandarin, scores top marks at the box office. [Photo/China Daily]
Musicals have long struggled to gain audience acceptance in China. Now, a new center in Hebei province aims to give domestic productions a boost, Chen Nan reports.
When the Broadway musical Mamma Mia! was performed in Mandarin for the first time in China in 2011, it drew an audience of about 300,000.
At the time, profit was the key driver for its producers from the United Kingdom, while their Chinese partners hoped the success of the show would encourage growth of homegrown musicals.
Now, a musical production incubation base has been launched in Langfang, Hebei province, aiming at making profit and promoting the industry for musicals in China.
With an investment of around 2 billion yuan ($323 million) from the local government and Beijing-based production company Ovation Cultural Development, the operation covers an area of about 95,000 square meters with a musical theater and related facilities to be completed by 2017.
The first musical production from the base is a Mandarin version of Stephen Sondheim's Into the Woods, which will make its first round of 100 performances in Beijing in November before touring the country next year.
The musical, which premiered on Broadway in 1986, follows the journey of a baker and his wife, who go into the woods searching for ingredients to break the spell of a witch's curse. During the journey, they meet different fairy-tale characters, including Little Red Riding Hood and Cinderella.