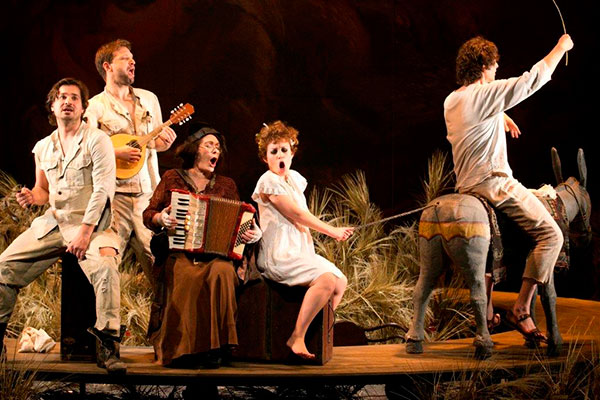 Gesher theater will tour China with one of its representative productions, Village.[Photo provided to China Daily]
In 1991, during the first Gulf War, a group of Jewish-Russian actors under the leadership of Yevgeny Arye, a prominent stage director in Moscow, emigrated to Israel. In a bold move, they founded a theater that they named Gesher, which means "bridge" in Hebrew.
Over the years, Gesher theater has successfully reached across Russian and Israeli cultures by recruiting many Israeli actors and actresses. Its productions are bilingual, in Russian and Hebrew.
More than 60 productions have been presented at more than 17 international festivals, winning numerous awards. Village, which was first staged in 1996, was an early success.
In 2015, Gesher brought Village to Beijing's Capital Theater after being invited by Beijing People's Art Theater. In November, the play will return to China in a tour of four cities: Beijing, Wuhan, Guangzhou and Shanghai.
"Every year, Beijing People's Art Theater invites foreign theaters to stage their classic productions.
Among them, Gesher theater's Village impressed me the most," says Lan Tianye, the 89-year-old actor and director, who has been with Beijing People's Art Theater since 1952.
Gesher has come to Beijing four times with several productions, including Enemies: A Love Story, A Pigeon and a Boy, Village and Don Juan.
"I was touched by the story of Village, the acting of the ensemble as well as how the theater interprets a story that happened in the 1940s with pioneering approaches," Lan says.
Israeli playwright Joshua Sobol tells the story of an innocent boy named Yossi, who lives in a small village and witnesses the fears, love, hopes and dreams of the people against the backdrop of World War II.
Sobol, in his 70s now, is known for his political plays, which engage with sensitive issues, such as the Holocaust, Arab-Israeli relations and religious fanaticism. He drew inspiration from his own childhood experiences in Palestine in the 1940s.