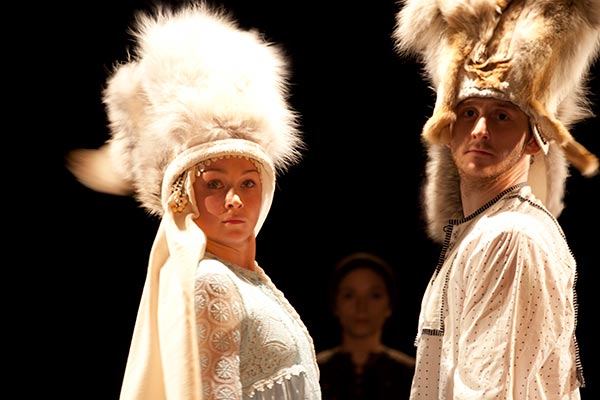 The Wuzhen Theater Festival will be held from Oct 13 to 22 this year. [Photo provided to China Daily]
The Wuzhen Theater Festival will be held from Oct 13 to 22 this year with nearly 80 performances brought by theater companies from 13 countries, including Germany, France, Russia, Japan and Australia.
Established Chinese theater director Lin Zhaohua will premiere his latest production, Dr. Godot or Six People Searching for the 18th Camel, as the opening drama during the event in eastern China's Zhejiang province.
Adapted from German writer Dietrich Schwanitz's book, Die Geschichte Europas, the drama deals with five schizophrenia patients, who consider themselves to be five famous European writers. They discussed theories about theater and their achievements in a library of a hospital.
Chinese theater director Meng Jinghui will bring his production, He Had Two Pistols with White and Black Eyes, which was adapted from Italian actor-playwright Dario Fo's work with the same title.
Leading Taiwan theater director Stan Lai will stage Writing in Water, which revolves around a man named He Shi, who studied in the UK and returned to China to teach lessons on happiness. The versatile TV host, singer, actor and film director He Jiong will take the lead in the drama.
Among the dramas brought by international artists, the highlights include Frank Castorf, the artistic director of Volksbuhne Berlin, who will direct a drama, The Gambler, adapted from the famous work by Fyodor Dostoyevsky with the same title; An Enemy of the People, directed by Jan Klata and performed by the Norodowy Stary Teatr; Kaligula, created by Lithuanian new generation director Vidas Bareikis; and Don Quixote, by Spanish director Carlos Alfaro, which commemorating the 400th anniversary of the death of Spain's best-known writer, Cervantes.
Besides displaying the classics adaptation, the festival also aims to appeal to audiences with an eye for cutting-edge stage productions.
For example, the Copenhagen-based theater, Republique Theatre, and British band The Tiger Lillies join forces in interpreting Shakespeare's Hamlet with 21 original music pieces.
Themed "Gaze Beyond", this year's festival will continue to showcase theater at 12 indoor venues and six outdoor stages. The festival will also include a daily carnival that will see hundreds of artists performing in the streets. Fans are likely to bump into them while wandering around the town.
Launched in 2013, the festival aims to display international theatrical works and offer young talent a platform from which to start their careers, the festival has so far presented 43 international plays and attracted more than 85,000 people.
Related:
22 plays to cheer up Wuzhen Theater Festival
Lin Hwai-Min's 'Moon Water' brings purity to August