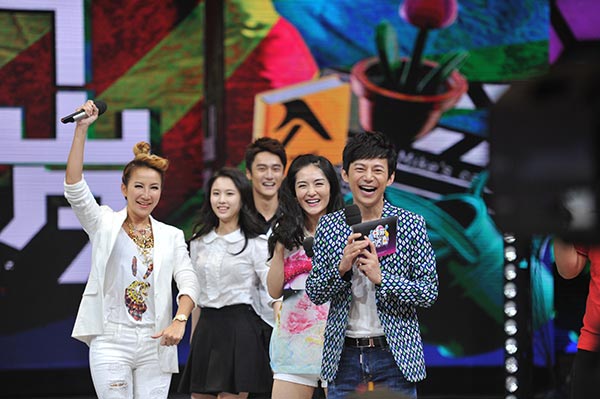 Happy Camp, hosted by He Jiong (right), has grown into one of the country's most popular TV shows since its debut 18 years ago.[Photo provided to China Daily]
A variety program on Chinese TV still wins audience approval nearly two decades after its debut, Wang Kaihao reports.
He Jiong, one of China's most famous variety-show hosts, is 41.
Happy Camp, the program he anchors on Changsha-based Hunan Television every Saturday evening, just turned 18 years old. It is perhaps the country's longest-running such broadcast.
For Chinese who grew up in the 1990s, the then-young host's good looks and onstage energy remain a part of fond childhood memories.
"I have my way to keep youthful vitality," He tells China Daily. "I can attribute that to Happy Camp."
Now, at a time when Chinese TV is full of variety shows and galas, it is important to remember the mother ship.
And, for He, the journey has been remarkable, too.
In 1998, he first appeared on China Central Television as the presenter of a children's program. Many TV hosts at the time had studied some form of stage presentation in college, he says, but his case was different - he earned a degree in Arabic from Beijing Foreign Studies University.
"I was a bit stiff on TV initially, but gradually began to interact more with the audience and also joke with them.
"Nevertheless it's my duty to keep the program running at the right pace. And never look like you think you are superior to the audience."
But you can't make all audience members happy all the time, so you need to be true to yourself and reach out to audiences in a friendly manner, the veteran host cautions.
Happy Camp has survived all these years trying to live up to people's expectations.
"New programs will always naturally ignite people's curiosity, and the long-running Happy Camp faces greater expectations. We cannot rely on habit, and we need continuous creativity."
To expand on his creative ideas, He recently directed a movie, titled Forever Young, that earned nearly 400 million yuan ($64.5 million) from the box office.
Anhui Television's Super Winner and Beijing Television's Happiness General Mobilization became the two other major variety shows that simultaneously appeared in China alongside Happy Camp. But in the years that followed, the two shows were taken off air.
Happy Camp not only survived that phase but also stayed popular during the 2000s, when a wave of reality TV shows hit China.