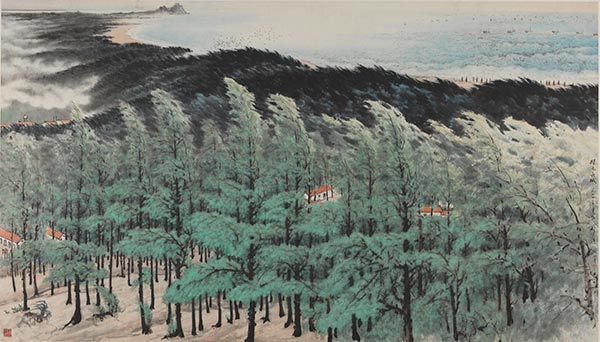 [Photo provided to chinadaily.com.cn]
The genre of shanshui landscapes is a serious genre where Chinese painters create their own spiritual, idealized landscapes, and where they seek freedom, express ideals and express homesickness.
The genre has evolved dramatically over the past century. Artists not only pushed the boundaries of shanshui by innovating in styles and strokes, they also incorporated Western painting techniques to enrich shanshui painting.
The National Art Museum of China is displaying its collection of shanshui landscapes to demonstrate its evolution since the early 20th century.
The exhibition starts with the crisis of ink painting at the turn of the 20th century, when traditional art faced the challenge of Western art. Painters of the time endeavored to modernize their brushwork to cater to the changing taste.
After the founding of New China in 1949, painters focused on portraying ordinary people and the construction of a socialist society. Realism dominated their creations to bring out revolutionary passion.
Over the decades since China's opening-up and reform, painters have broadened their visions to adopt a variety of styles. They have realized a true dialogue between Eastern and Western art by creating their works against the backdrop of global art movements.
The exhibition runs until July 27.