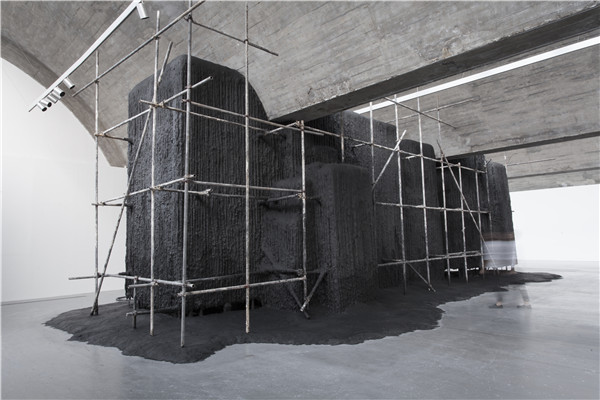 Sui Jianguo's solo show, Touchable, features 12 works made of plaster and polyurethane. [Photo provided to China Daily]
It has taken Sui Jianguo 40 years to evolve from a worker at a cotton mill to a prominent sculptor who embraces a conceptual spirit. Once an amateur ink painter, Sui has dedicated himself to modernizing Chinese sculpture since the 1980s.
Sui's current solo exhibition at Pace Beijing, titled Touchable, continues the 59-year-old's insightful research in some essential questions of sculpture: What is the beginning of a sculpture? How does an artist's body movements interact with his work? And to what extent can a sculptor reduce his control over the work and accept unexpected changes?
The exhibition displays 12 works, all colored in black, that Sui has produced over the past two years. To make his art more "touchable", he passed over the regular refined materials such as bronze and marble. Instead he turned to plaster and polyurethane, which cost less and look quite plain. Plaster is a particularly common material-often used for modeling but too fragile for the final piece.
The centerpiece, titled Gravity Field, is a gigantic work Sui made specifically for Pace Beijing's venue. Six meters high and 17 meters long, it is composed of several cubes made of foam boards. Weeks ago, workers poured about 25 tons of plaster over the surface. With a close look, viewers can clearly see the traces of plaster flowing downward.
Dozens of scaffolds, on which workers covered the colossus with plaster, are not dismantled, which intensifies the work's aura and complicates people's visual experience.
Plaster has long been a part of Sui's sculptures. He once let water stream over a white plaster cube to achieve a sophisticated effect. Now, Sui erases the touch of refinement and romanticism that he once endeavored to achieve. He seeks to present only the tension, power and mystery of nature in the huge, inky body of Gravity Field.
He sees his creations as collaborations between his body and the materials.
"Whether I stretch my muscles to interact with the material, or I let the material itself interact with the gravity, I want it to happen naturally."
Though Sui is a professor with the Central Academy of Fine Arts, he has always wanted to reduce the imprint of professional skills and academic teaching. With all his explorations, he challenges the limits of his hands and mind.
At his exhibition, he also shows several "paintings" in which he painted with polyurethane-a cheap, durable material that's not easy to handle.
"If you look at the paintings very closely, you will find some areas with a thick layer of polyurethane after it is set, while other areas are rather flat.
"A question that has fascinated me since 2012 is when and how does a two-dimensional piece of work, like a drawing, become a three-dimensional piece, like a sculpture? Where is the crossing line, I wonder."
Gravity Field will be destroyed after the exhibition ends, leaving only feelings of novelty and stimulus to the artist and whoever saw it.
Whether working with plaster or polyurethane, Sui says the imperfection of these materials contrasts with the "boredom" of perfect-looking materials.
With an underlying seriousness, he questions the trend of artworks being seen and traded as luxury goods. The standard to judge an object's value should never be the cost, he says, but its inherent tension.
If you go
10 am-6 pm, Tuesday to Saturday, through Aug 22. Pace Beijing, 798 Art Zone, 2 Jiuxianqiao Road, Chaoyang district, Beijing. 010-5978-9781.