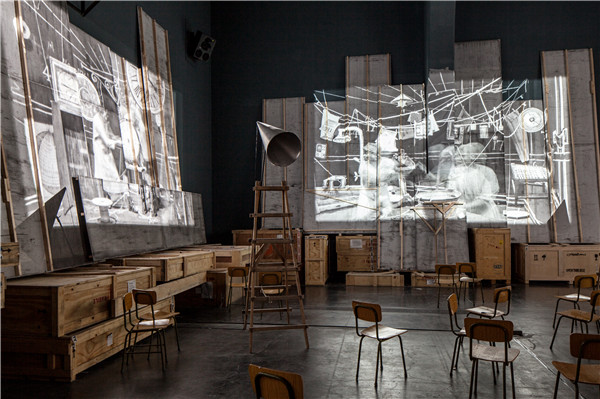 South African artist William Kentridge is holding a retrospective in Beijing, where the exhibition hall is designed like a studio. [Photo provided to China Daily]
The studio is an artist's castle-a place where he can play king or buffoon.
It's a safe space for "stupidity", for fun and experimentation, 60-year-old South African artist William Kentridge believes.
"It's a place where you can become different characters and watch your different selves," he says.
"When you leave the studio, you edit yourself to go into the world."
His retrospective at Beijing's Ullens Center for Contemporary Art, William Kentridge: Notes Towards a Model Opera, reveals how he approaches artistic conjuration in his Johannesburg studio. A display of his drawings, prints and animations reveal his creative process.
Kentridge's work debuted in China halfway through his three-decade career. His film, Shadow Procession, was shown at the Shanghai Biennale 2000.
"Although Kentridge makes artworks that are intrigued by, and reflect upon, his surroundings in South Africa, his creations touch upon these issues that (people) are universally concerned with," says Philip Tinari, UCCA director and the curator of Kentridge's exhibition.