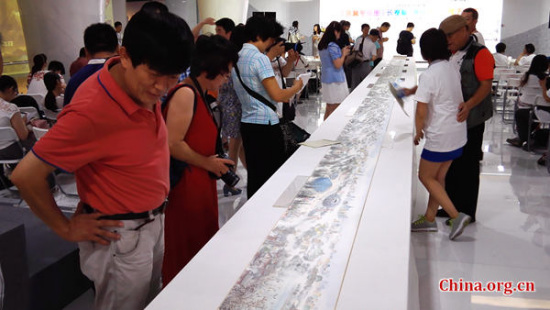 Painting scroll "Jingji Winter Joy" is on display at Beijing Olympic Museum on Friday, July 10, 2015. [Photo/China.org.cn]
The bid committee of the Beijing 2022 Winter Olympic Games unveiled a painting scroll that features booming winter sports in north China on Friday, July 10, in a bid to showcase the booming winter sports in north China.
The traditional Chinese painting scroll, "Jingji (Beijing and Hebei) Winter Joy," measures 20.22 meter in length and portrays a total of 2,022 people engaging in various winter sports, according to the Xu Ziwen, the principal artist. He said that the numbers are obviously associated with the 2022 Winter Games.
The scenes depicted on the scroll include the most famous landmarks in Beijing such as the Bird's Nest, the Great Wall and Tian'anmen Square. It also features Chongli, in Zhangjiakou, the city in the adjacent Hebei Province intended to accommodate snow sports for the 2022 Games.
Apart from winter sports, the two other themes of the scroll are the Great Wall and the Spring Festival – or the traditional Chinese New Year.
"Once Beijing wins the bid, athletes from around the world will be able to compete at the foot of the Great Wall, a unique experience found nowhere else. We also plan to hold the opening ceremony on Feb. 4, a day in the Spring Festival," said Wang Hui, the deputy secretary-general of the 2022 Games bid committee, adding that it was the Orient culture's contribution to the Olympics.
Wang said Beijing's "huge advantage" was the support from both the central government as well as the public, as a recent poll showed that 91.66 percent of people nationwide supported Beijing's bidding effort.
International Olympic Committee is now choosing between Beijing and its only rival Almaty of Kazakhstan before the final result will be announced on July 31.