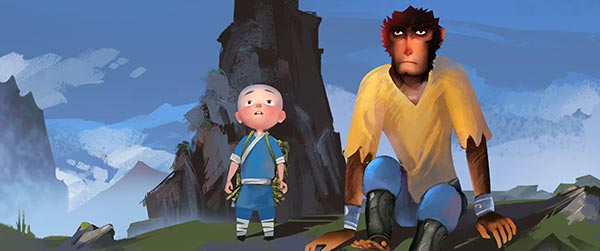 The 3-D animated movie Monkey King: Hero Is Back becomes the highest-grossing animated movie in the history of Chinese cinemas.[Photo provided to China Daily]
The Monkey King rescues the Chinese animated world? It may sound crazy, but that notion has dominated the country's movie-review forums in recent weeks.
By last Thursday night, the 3-D animated movie Monkey King: Hero Is Back exceeded the milestone 300 million yuan ($48 million) to surge as the highest-grossing animated movie in the history of Chinese cinemas. The previous record, 295 million yuan, was held by the forestry-themed, Boonie Bears: Mystical Winter, which was released in January, according to Cbooo.cn, a real-time box-office tracker.
To date, the latest film based on the Ming Dynasty (1368-1644) novel Journey to the West has grossed nearly 500 million yuan.
Major film-review websites give it a high score. And fans are singing its praises on the country's most popular social-media platforms, such as WeChat and Sina Weibo.
The last time the nation was flooded by such overwhelming enthusiasm for an animated film was in 1964, when Shanghai Animation Film Studio's classic animated movie The Monkey King: Uproar in Heaven was released.
Insiders attribute the huge popularity to two main reasons: a plot twist and nostalgia for a household-name superhero.
China's animated movie industry has been sluggish for half a decade. In the record-breaking 2014 box office, which grossed 29.6 billion yuan from 618 films, only 4 percent, or 1.2 billion yuan, came from the 34 homegrown animated movies.
With picturesque scenes like Chinese ink paintings, vivid facial expressions and spectacular fights, Hero Is Back is regarded as a "breakthrough", narrowing the distance between domestic titles and Hollywood rivals.
Many details, such as the way the child monk's hair grows longer and thicker as the storyline evolves, are praised by fans. In the brand-new adaptation, the movie reinvents the traditional superhero Monkey King as a power-locked, depressed sorehead, who regains his power and self-confidence only after a series of adventures - even at a cost of losing his dearest friend, the child monk.
Tian Xiaopeng, the movie's director and also a veteran animator behind the 1997 animated series Journey to the West, reveals that the new Monkey King's role was inspired by the 1994 American crime film The Shawshank Redemption.
"Ellis 'Red' Redding (Morgan Freeman) is scared to find he doesn't fit into the changed world after 40 years in prison," he says. "It inspired us to design the Monkey King as a middle-aged man, who has given up the hero dream and lost the courage to kill the evil demons, after a 500-year imprisonment by Buddha."