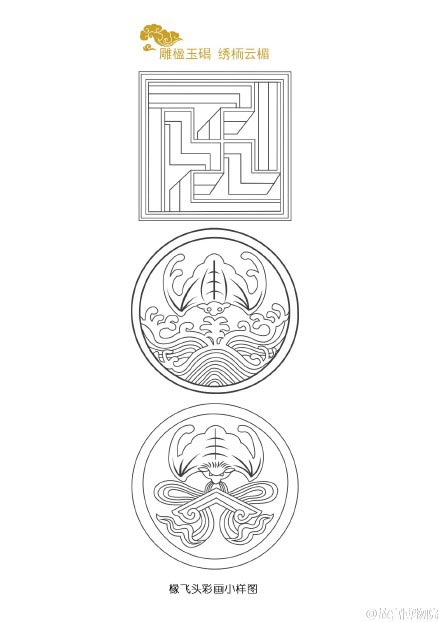 A black and white pattern for coloring uploaded by the official Sina Weibo account of The Palace Museum. [Photo/Sina Weibo of gugongweb]
Following the success of the best-selling coloring book for adults, Secret Garden, the Forbidden City is issuing black and white patterns featuring the intricate, richly ornamented architecture of its famous structures for people to color in as well.
Under the tag "Color the Forbidden City", the official Sina Weibo account of The Palace Museum has uploaded three black and white patterns of decorations often seen on traditional Chinese architecture on July 19 and called on the public to color them in. The three patterns, which span different levels of difficulty, may take "about a week to finish if worked on at an easy pace", said an organizer of the activity.
The popularity of Secret Garden, with some 25,000 copies sold on e-commerce platform JD.com by June 18, was the inspiration behind "Color the Forbidden City."
As of 9:30 am on July 22, the original thread was reposted 2,828 times and commented on 525 times. Many Internet users are urging The Palace Museum to release a book of patterns to color, just like the Secret Garden.
Guo Ting, who maintains the official Sina Weibo account of the museum, said color and architecture are subjects the museum has always wanted to introduce further to the public. With this coloring activity, the museum hoped to deepen interactions with Internet users and let the public learn more about architectures in the Forbidden City.
"The Palace Museum thought about publishing colored photos of architecture in the Forbidden City as early as 2008, because they are aesthetically pleasing, but our thoughts back then were not as 'fashionable' as the coloring idea today. Since last month, with the popularity of the coloring book, our team thought about trying it with patterns found on architecture, "said Guo.
As to whether there will be a coloring book, Guo is optimistic, as "the publishing department of the museum has already contacted us and we're in talks."
All are welcome to submit their work through Sina Weibo until July 31. The best three will be selected through a public poll. There will be prizes, although what they are remains unknown.