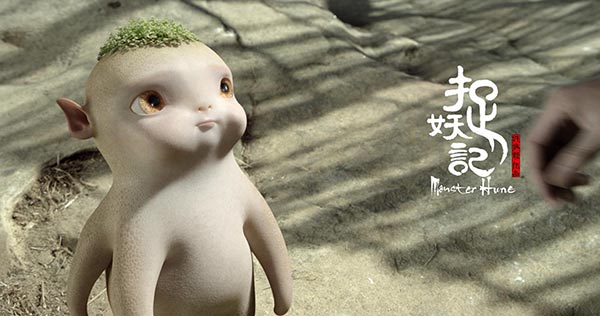 662 million yuan. Monster Hunt's take in its first four days.[Photo provided to chinadaily.com.cn]
Weekly takings reach 1.76b yuan as 5.1 million flock to cinemas to see made-in-China movies
The boom at China's multiplexes is almost taken for granted, but it is not every week that several records are shattered-and by three domestic releases.
The weekly box office gross of 1.76 billion yuan ($283.36 million) for July 13 to 19 is a record, and a tidal wave of moviegoers over the weekend meant that many theaters reported full capacity.
The sight of swarming crowds outside the nation's cinemas, and even occasional scalpers, was something not witnessed since the early 1980s.
Last week's attendance of 5.1 million people was the highest since 2000. However, it may not be a record because cinemas attracted huge audiences in the 1980s when ticket prices were a fraction of what they are now.
Saturday saw receipts of 420 million yuan and Sunday brought in 402 million, surpassing the single-day benchmark of 383 million yuan set only three months earlier. What truly surprised industry analysts was that two movies that debuted one day apart both ended up as commercial and critical winners. Monster Hunt grossed 662 million yuan in its first four days, while Jian Bing Man generated 427 million yuan in its first three days.
"This could not have happened four or five years ago," said Suo Yabin, a professor of film studies at Communication University of China. "Now the market can accommodate two or three hit movies at once."