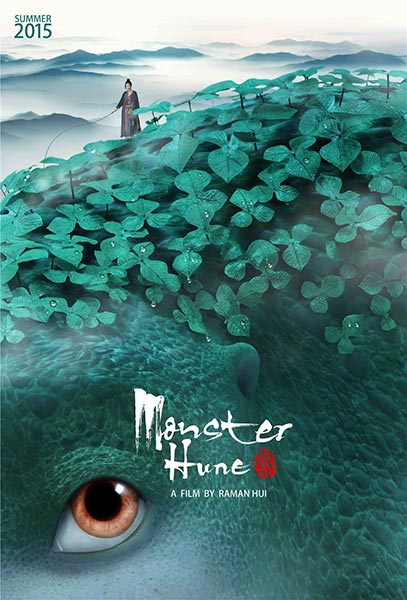 The live-action/CGI flick Monster Hunt is among the latest box-office hits in China.[Photo provided to China Daily]
Surprise hits at the box office don't ease all concerns about the overall quality of China's animated films, Xu Fan reports.
China's long-struggling animation industry is enjoying a strong surge, though insiders warn the future may swing between potential and pitfalls.
More than half of the latest single-day record box office, 435 million yuan ($70 million) on July 18, is powered by two animated titles, the live-action/computer-generated imagery flick Monster Hunt (180 million yuan) and Monkey King: Hero Is Back (60 million yuan).
Alongside the dark-horse blockbusters, the nationwide release of 18 domestic animated movies in 2,000 theaters is aimed at nabbing more viewers during the "golden" summer-vacation period. The program, co-launched by 45 major cinema chains, opened on July 11 and will run through August.
The figures cheer up Chinese animation crews, who still fret that such films garner a small share of the country's fast-expanding market.
Last year, up to 618 home titles were screened on the mainland, but only 34 domestic animated films were among them, bringing in 1.2 billion yuan, or 4 percent of the record gross of 29.6 billion yuan.
"Chinese animated films have made some progress, but few good words are said about their creativity and fine art," writes animation professor Chen Liaoyu in The Report on Chinese Film Art.
"They struggle to raise interest among the mainstream moviegoers."
In an earlier interview with China Daily, Monster director Ramam Hui revealed that he initially hoped to make a 100-percent animated movie, but compromised with a cast of human stars and computer-generated characters. His producer, Hong Kong-based studio Edko, had worried a film without celebrities and relevant promotion would have a hard time earning back the big budget.
In a similar struggle to convince investors, Monkey King's director Tian Xiaopeng had to throw in his own money and had little left for marketing, which resulted in low public exposure and limited debut screenings. Fortunately, the movie's familiar theme has given it a big boost at the box office.
Now, some veteran filmmakers sense their estimations about animated movies were wrong.
China's domestic animation industry - the largest in the world in terms of its annual output of 260,000 minutes (including TV programs) - has also longed for good products as well as ticket revenues. In the past decade, which has witnessed the fastest rise in the Chinese movie market's history, national enthusiasm has only extended to a few animated movies, including the franchises Pleasant Goat and Big Big Wolf and Boonie Bears.