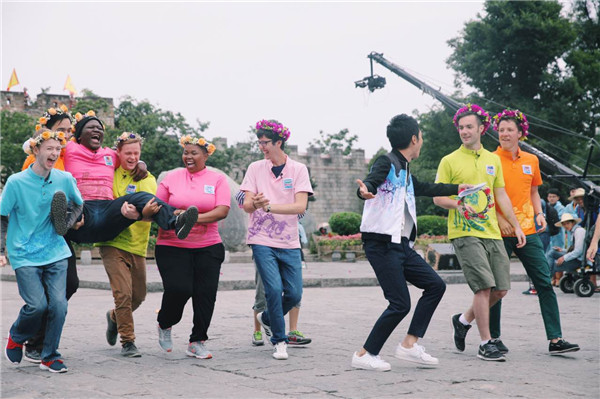 The reality show of the 14th Chinese Bridge finals will start to air on July 27, 2015. [Photo provided to chinadaily.com.cn]
The 14th Chinese Bridge - Chinese Proficiency Competition for Foreign College Students, has reached the finals, with 10 lucky contestants competing for the championship while touring Chinese cities in a reality show.
The "Chinese Dormitory" was introduced to the finals, where the 10 contestants live together to respond to both indoor and outdoor tasks, as they travel from Quanzhou through Dali and Beijing, to Changsha, where the winners will be decided. At the same time, the process will be filmed into a reality show, which will start to air on Hunan TV from July 27.
This year's competition fully demonstrates the theme of the Belt and Road Initiative, with chosen cities all closely related to the Silk Road. The contestants will not only take languages tests, but also experience the local culture and customs of the four cities, and study their importance along the Silk Road.
The reality show has also introduced celebrity dormitory administrator Zhang Danfeng to take care of the contestants and help them to prepare for the tests.
"I felt a lot of pressure before I took the position. The contestants are from different countries, so I did a lot of homework to understand each country's culture and customs," said Zhang, a major character in the current showing TV drama The Journey of Flower. "I felt relieved that it has worked very well. My priority is to get them relaxed and feel comfortable for each test, as the competition is very intense."
So far, the 10 contestants have finished touring Quanzhou and Dali, and will compete in Beijing this week. The exams taken in the three cities will not result in contestant eliminations, but the results will decide whether they can advance to the top five in Changsha.
Organized by China's Hanban, or the Confucius Institute Headquarters, and the Hunan provincial government, the annual event tests the contestants' Chinese abilities in various forms, from listening and speaking to Chinese literacy. "My Chinese Dream" is the theme of this year.
The contestants are also tested on their knowledge of China and their ability to apply what they have learned to real world situations. The test forms include discussions, paper tests, out-door tasks, and a comprehensive examination.
This year, the competition attracted a total of 133 contestants from 97 countries to China, who had already beaten thousands in the preliminary tests held in their home countries by Chinese embassies and Confucius Institutes.
The championship round will be held in Changsha on August 2, and air on Hunan TV on August 27. Winning contestants will have the opportunity to study in China on a scholarship.