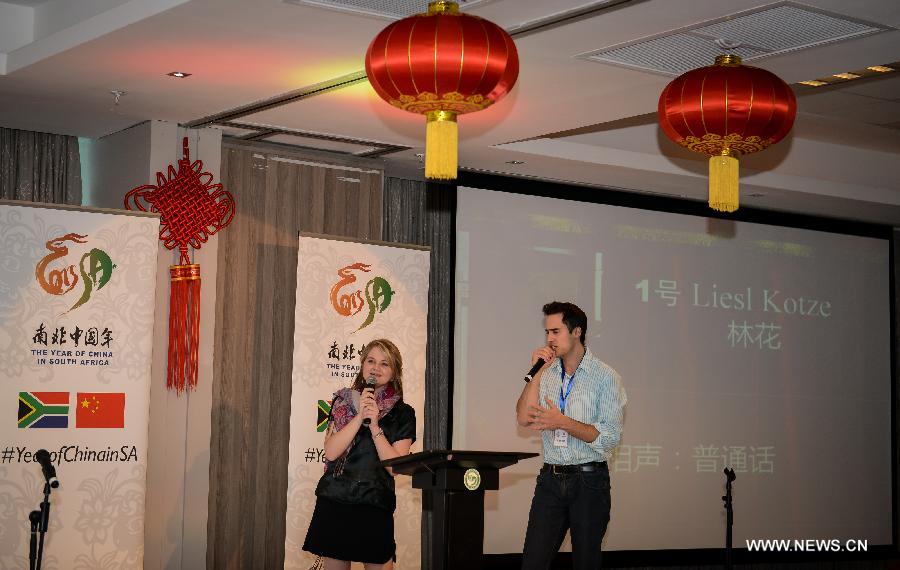 Liesl Kotze, left, one of the first prize winners, performs crosstalk during the competition. [Photo/Xinhua]
The South African heat of the 14th "Chinese Bridge" Chinese Proficiency Competition for Foreign College Students was staged in Durban on Saturday with two contenders emerging triumphant.
They will join pairs of winners from 23 other international heats to contest the final in China's Hunan province next month.
Though most competitors have never been to China, they have a fondness for the language as well as culture, and yearn to visit the country. Nina, a student from Rhodes University, is eager to know the key to the success of China's economy, so she works hard on Chinese and reads more books about the country.
According to the South African Department of Basic Education, primary and middle schools will offer Chinese as a second foreign language from next year.
Jian Aifu, head of the Confucius Institute at the University of Stellenbosch, said the decision meets the relationship between China and South Africa as well as the social needs of South Africa.