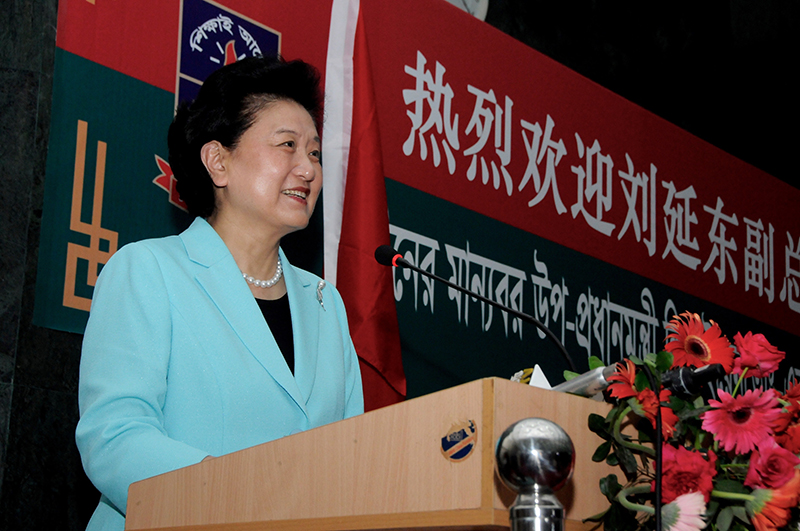 Chinese Vice Premiere Liu Yandong speaks in the university.[Photo/Xinhua]
Chinese Vice Premier Liu Yandong visited the Confucius Institute of North South University (NSU) in Dacca, the capital of Bangladesh, on Tuesday.
Accompanied by Bangladeshi Commerce Minister and officials from the Bangladeshi Department of Education, Liu met with a hearty welcome from the teachers and students. She watched the Bangladeshi students learn Chinese, perform a tea ceremony, make paper-cuts as well as play Zheng, a traditional Chinese instrument.
During the visit, Liu had a cordial talk with some of the students, and appreciated the show including comic dialogues and poetry recitation in Chinese by the Bangladeshi locals.
Liu also made a speech at the university. According to her, China and Bangladesh are good neighbors, friends as well as partners. Since 2,000 years ago, the two countries began to trade and make cultural exchanges through the Maritime Silk Road.
Liu stressed that language is the carrier of culture as well as the tool for communication. China has set up more than 480 Confucius Institutes in universities and nearly 900 Confucius Classrooms for primary and middle school students in 132 countries and regions as of today, which acts as a high-speed rail connecting the hearts of people in China and abroad.
Liu placed high hopes on the future of the Confucius Institute in the university, and the relationship between the young people in the two countries. She said that China is willing to boost friendly exchanges and cooperation between the political parties, think tanks, colleges and universities, youths, women and media of the two counties to deepen the cooperation on education, culture, media as well as science and technology.
On behalf of the Chinese government and headquarters of the Confucius Institute, Liu sent 1,000 Chinese textbooks to the university, and invited 100 local college students to attend a summer camp in China.
According to Bangladeshi media, North South University is the first private university in the country. It set up the Confucius Institute in 2005 with the cooperation from Yunnan University in China. It was among one of the earliest Confucius Institutes worldwide.