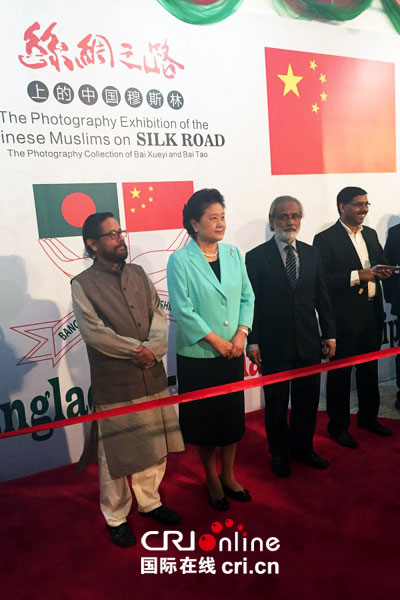 Chinese Vice Premier Liu Yandong attends the unveiling ceremony of Chinese Muslims on Silk Road.[Photo/CRI]
Chinese Vice Premier Liu Yandong attended the unveiling ceremony of Chinese Muslims on Silk Road, a photo exhibition held by Henan Photographers Association, in Bangladesh's capital Dhaka on May 25.
Liu cut the ribbon at the ceremony, and wrote an inscription to the exhibition. She also sent a gift to the director of Bangladesh National Museum. Bangladeshi Minister of Culture Affairs Asaduzzaman Noor, Chinese Ambassador to Bangladesh Ma Mingqiang and Chinese Cultural Secretary Chen Shuang were present at ceremony as well.
According to Liu, the exhibition is rich in content, and offers a chance for Bangladeshi people to know more about the livelihood of Chinese Muslims.
The photos in the exhibition were taken by Chinese Muslim photographer Bai Xueyi and his son Bai Tao. They spent 14 years travelling on the Silk Road, and shot more than two million images of the landscape as well as the culture, faith, and livelihood of Chinese Muslim.
It was the only photo exhibition about Chinese Muslims, and an important sector of the 3rd Arabic Arts Festival which was held in China last year. In the first-run of the exhibition in 2014, it attracted the attention of Chinese media, and won praise from the visitors.