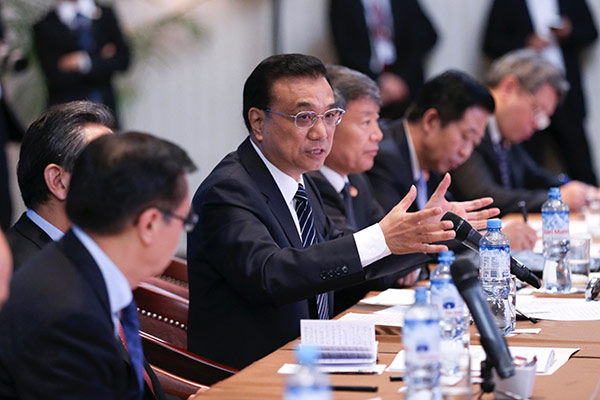 Premier Li Keqiang held a panel discussion with Chinese entrepreneurs in Lima, Peru on May 23 local time. [Photo/english.gov.cn]
During his visit to Peru, the Chinese Premier has also visited the country' archeological museum with his Peruvian counterpart Pedro Cateriano.
The premier said that agricultural civilizations of Peru and China contributed to the development of human kind, and he pledged more cultural exchanges between the two countries.
The two countries are now enjoying increasing cultural exchanges, with more and more Peruvian people becoming interested in learning Chinese.
"I'm very interested in Chinese culture and l like studying Chinese very much."
"I'm hugely interested in your culture. And I want to travel to China maybe I will go to see the Great Wall."
"I want to go to work in China."
"I want to study in China and I want to travel there."
Ricardo Palma University is located in Lima, the capital of Peru, and is famous for its modern language studies.
It is the first university in South America to make Chinese-Spanish translation a major on its curriculum.