Premier Li Keqiang urges Fujian to build on its achievements
( english.gov.cn )
Updated: 2015-04-27
Reform and opening-up are the most important and effective measures to maintain stable economic growth and can help optimize and upgrade the economic structure.
Premier Li Keqiang emphasized this point during his inspection tour of Fujian province from April 22 to 24.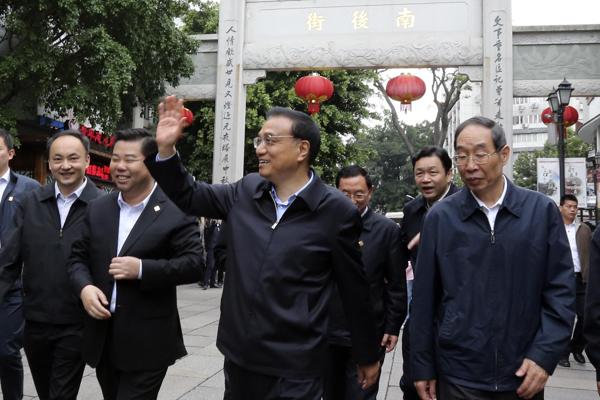 The Premier visited the newly inaugurated China (Fujian) Pilot Free Trade Zone to assess the stage that reform and opening-up have reached, and what the next step should be. He said, in general, China's economy has been running in a reasonable range. Despite facing downward pressure, the economy still has great potential for development.
Fujian has many Taiwan entrepreneurs because it is the mainland province closest to the island. Premier Li visited TPK Touch Solutions Inc, a Taiwan-funded company and a leader in touch-screen manufacturing technology. He held a meeting with 11 Taiwan business leaders who have invested in the province, and listened to their suggestions and the difficulties they faced.
During his visit to Pin Shang E-commerce Co., the Premier praised the company's new operation mode of "Internet Plus" — the integration of the Internet and traditional industries through online platforms and IT technology. He also visited the J-TECH CNC Machinery Co. and encouraged it to carry out the "Made in China 2025" program.
During his tour of Xiamen University, he learned about its development and achievements by visiting its history museum. He also exchanged ideas with teachers and students.
Premier Li paid a revisit to a relocated family he had met with seven years ago. He felt happy after seeing that the relocated residents had moved into spacious and comfortable new homes and were living a better life.
Visiting a cultural street in Fuzhou, he said culture is the root and soul of a city. City planning and construction should be open and absorb modern elements but, at the same time, it should protect its historical memories so as to turn the city into a place suitable to live and do business while displaying its excellent cultural heritage, the Premier said.
Premier Li lauded the achievements Fujian has made in economic and social development in recent years and hoped that it will rise as a new force, promote scientific development and bring real benefits to the people by taking advantage of its proximity to Taiwan and grasping the historical opportunity of building the free trade zone.