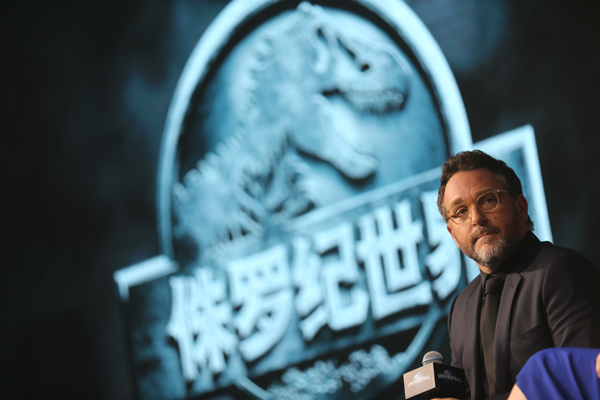 The Jurassic World director Colin Trevorrow. Photo provided to China Daily
When Jurassic Park was released in the US in 1993, the Chinese mainland was yet to formally introduce Hollywood movies to its cinemas. However, for Chinese people growing up in the 1990s, the iconic sci-fi film was among the first films to open their eyes to the exotic world of Hollywood.
"It was so scary and so cool to see so many dinosaurs. I had never before seen anything with such a strong visual impact." says Zhu Xu, 28. Like many Chinese, the Beijing-based freelancer saw the first episode of the franchise on videotapes at home.
"I was 10 years old watching the second episode (The Lost World: Jurassic Park) in the cinema. I went to the restroom once during the screening and I found my legs shivering."
The franchise has always been popular in China, and when the 3-D edition of the first episode of Jurassic Park was released in China in 2013, it raked in 350 million yuan ($56.5 million) at the box office, despite the film being made two decades ago.
The new installment will pay tribute to the previous three, but in "a subtle and reserved way." Though fans of the franchise will immediately recognize some places and characters in their memories, Trevorrow says he wants to present a film for everyone, not just the fans.
So, will Jurassic World become part of the collective memory of a new generation? The director seems confident.
"Jurassic Park can stand the test of time because it tells a very fundamental story which is thousands' years old on a character's birth, death and resurrection," Trevorrow says. "We make this movie in 2015, and maybe future generations will see it again and again."
Related:
Cannes president praises development of movie industry in China