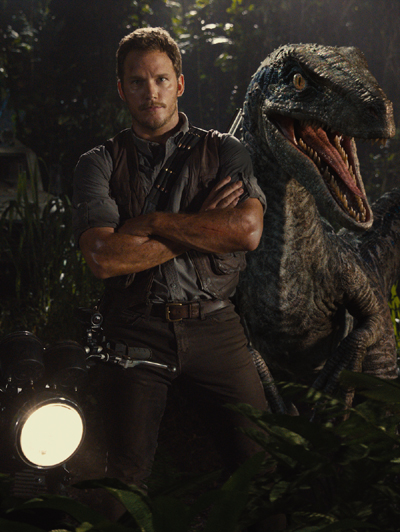 A scene from the movie featuring Chris Pratt.Photo provided to China Daily
"Since then (1993), the world's filmmaking has changed quite a lot, but nothing will ever change the power of this story. We feel great to be able to add new life into the franchise with technology, the true talent today ... to realize a brand new chapter," said Spielberg in a video statement for the Chinese audience at the same media event.
Spielberg is the producer of the new film, but Trevorrow says the legendary director also offered advice when the story was being developed.
"If I have some ideas, he will be able to add something else," Trevorrow says. He says he is grateful to his predecessor, but considers the new film to be original and fresh.
"No matter how cool the technology is, there will always be a next stage: We want this film to be more intense and scarier. So, watch the film with as many people as possible," Trevorrow says, half-jokingly.
Trevorrow says the development of technology has allowed him to create scenes that Spielberg wanted to make but was unable to.
Motion capture technology was introduced into the franchise for the first time, giving dinosaurs more human personalities. A scene depicting a child riding a baby raptor was also able to be realized. But the most eye-catching new addition is a new villain: Indominus rex, a hybrid dinosaur.