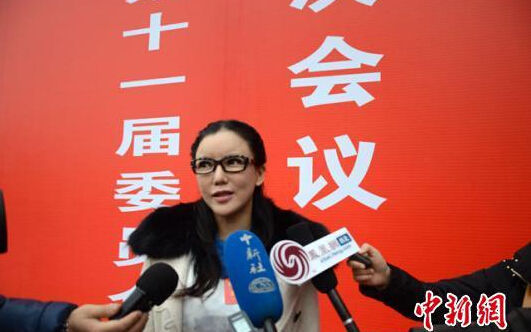 Peng Dan, a member of the CPPCC of Gansu, is interviewed by journalists in Lanzhou, capital of Northwest China's Gansu province, Jan 27, 2015.
The fight against corruption has begun in China's art and literature circles, which are haunted by power-for-money deals, exchange of privileges for sex and certain unspoken rules, committee member Peng Dan said when attending the Chinese People's Political Consultative Conference (CPPCC) of Gansu on Tuesday.
Peng Dan, or Diana Pang, is a Hong Kong dancer and actress, who was born in Changsha in Hunan province in 1972. She was chosen as a member of the CPPCC and participated in the administration and discussion of the state affairs in Gansu in 2013.
This is the third time Pang attended the 11th session of CPPCC of Gansu, which was held in the provincial capital of Lanzhou on Tuesday afternoon.
The anti-corruption campaign is one of the hot issues under discussion in this year's meeting.
"The antigraft work in art and literature circles is a very critical problem, as we can see that corruption happens both in the fields of art and literature and the film and television industries," said Peng.
She added that the anti-corruption campaign would not hinder economic development within a short period of time, but instead bring people more confidence in government and a more positive energy to the society.
While she used to be an actor and a director, Peng's new identity made her a "star" member of the CPPCC, which attracted the public's attention.
During her tenure, Peng went for field investigations in the rural areas of Gansu province several times, and she was also appointed as the image spokeswoman for Dunhuang in 2014.
According to Peng, it is a very good thing to combat corruption and build a clean environment in art and literature circles, but more work needs to be done.