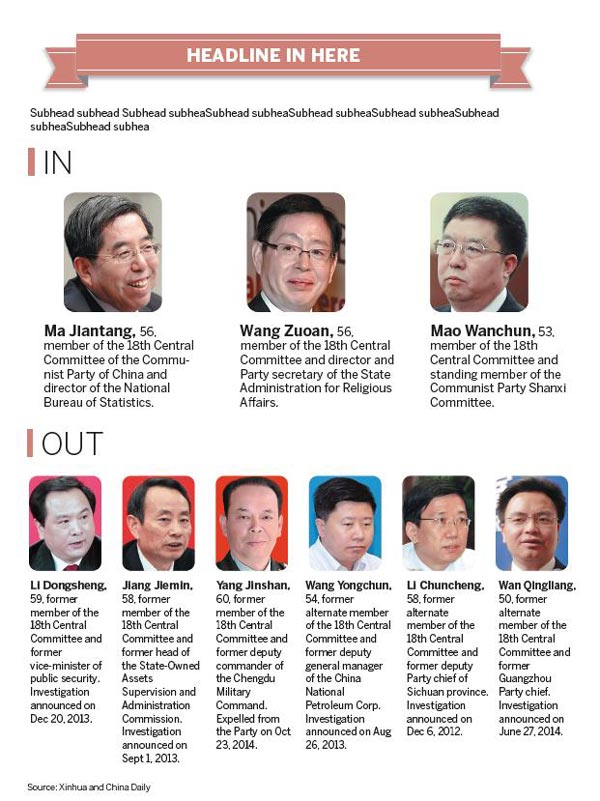 Analysts emphasize need for legal framework to fight corruption
Chinese anticorruption work should step into a new stage with upgraded laws that prevent as well as fight graft, judicial experts said, after a landmark meeting of the country's top Party officials concluded on Thursday.
The number of local and national officials who were investigated or punished for graft over the past two years shows the seriousness of corruption, but it also reflects the significant effects of the country's antigraft campaign, said ChengLei, associate law professor of the Judicial Reform Research Center at Renmin University of China.
The efforts against graft will be intensified after the Fourth Plenary Session of the 18th Central Committee of the Communist Party of China, which was held in Beijing from Monday to Thursday, and more corrupt officials will be exposed,Cheng said.
Since the Chinese leadership launched the antigraft campaign, more than 40 officials at the ministerial level or above have been sent to prison or investigated for corruption.
Several national level officials attracted the most public attention.
One month after Xu Caihou, a top military general, was expelled from the Party for violating discipline on June 30, Zhou Yongkang, former member of the Standing Committee of the Political Bureau of the Communist Party of China, was probed for "serious disciplinary violations".
Also in June, Su Rong, a former vice chairman of China's top political advisory body, was investigated and removed from office.
Before the probe of the three national level officials, Bo Xilai, 65, former Party secretary of Chongqing,was sentenced to life in prison for accepting bribes, embezzlement and abuse of power in September 2013 in Jinan, Shandong province.
"As these officials are investigated and legally dealt with, it's also the time, and a necessity, to upgrade the crackdowns and prevention of graft under laws," Cheng said.
Althoughofficials are asked to report their property to the public, "there are still some people who refuse and disobey because the requirement is not a law that everyone mustabidebyandcanbepunished for violating",he said.
Cheng highlighted the urgency of developing a legal framework and effective procedures for better enforcing the rule of law. YangXiaojun, a law professor at the Chinese Academy of Governance, said the work against graft cannot only rely on a group or department.
"Instead, what we demand is a system or mechanism" that is established under laws.
The deterrent effect of the country's antigraft work has been established after a large number of officials were investigated and punished, "but how to keep more officials from corruption is more important," Yang said.
"As power is put in a cage, officials' improper behavior will be restricted. Only when the antigraftwork is put into laws will the campaign against corruption never cater to leadership," he said.
It was also the first time the plenary session took the rule of law as a priority and topic in such a key meeting, "which shows the Party's determination to push forward our country's judicial work," he added.