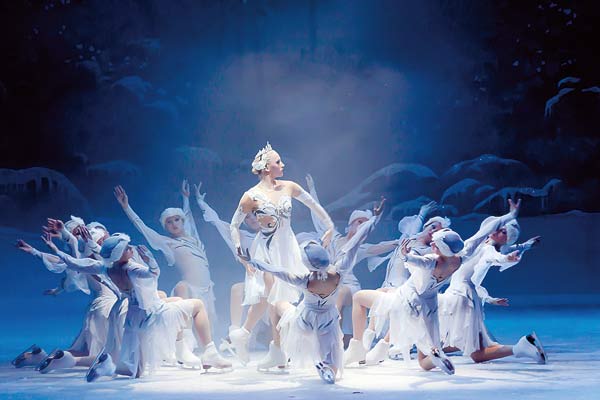 The famous ballet will be performed by professional ice-skaters to the music of Tchaikovsky. Photo provided to Shanghai Star
The Imperial Ice Stars have brought ice-skating into a new era and to a new audience. Zhang Kun reports on their production of Swan Lake coming to Shanghai Culture Square.
The most popular ballet of all time, Swan Lake, will take a new look at Shanghai Culture Square.
Five tons of icy water will be poured onto the stage to prepare the theater for the Imperial Ice Stars' performance of Swan Lake on Ice from Jan 28 to 30.
Twenty-six figure skaters with Olympic, world, European and national champion titles, who hold more than 250 competition medals between them, will present the story of Swan Lake – on ice.
The Imperial Ice Stars was founded by two live entertainment producers Tony Mercer and James Cundall, and former speed skater Vladislav Olenin in 2004. Their shows, such as Sleeping Beauty on Ice, The Nutcracker on Ice and Phantom of the Opera on Ice, have won high acclaim internationally. Some say they have done for ice-skating what Cirque du Soleil has done for circus.
Swan Lake features choreography by Mercer, who wanted to create a production faithful to what composer Pyotr Ilyich Tchaikovsky set out to do when he wrote the music.
Mercer says he was inspired by his research into Tchaikovsky's original score and intentions for the story: "I wanted to create a more realistic interpretation of this much-loved tale and transpose it onto the ice, creating a new art form in the process – ice dance in a full theatrical setting. I always felt it was a natural fit, to have swans gliding on ice."