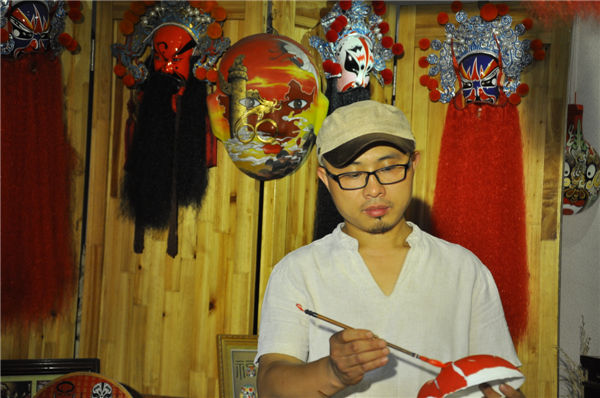 Xiao Xu, 32, has been making facemasks used in traditional Shanxi opera for more than a decade. [Photo provided to China Daily]
The local historian
Wu Ziqi: 21
Although I was born and raised in a modern community in Zhanjiang city in Guangdong province, I didn't know much about my hometown's oldest neighborhood, which is poor, with narrow streets, and badly managed. Many homes don't even have a washroom, so people have to use the public toilets.
When I interviewed more than 50 people who lived in the neighborhood before 1945, I heard a lot of amazing stories about my hometown, including tales from 85-year-old Liang Jinming, who was twice threatened at gunpoint by Japanese and Kuomingtang soldiers when they tried to steal items from his grocery store.
He gave me a tour of the neighborhood and introduced me to other seniors who know the town's history. He said he wanted to tell me all the stories of his life. I felt his eagerness to save his memories of that period of history, and as a history student I have a responsibility to record them.
Recording the history of my hometown is a huge project, but we have fewer than 20 people, mostly students, and our resources are very limited. So we chose the Internet for promotional purposes, to raise money and to publish our work. We have interviewed more than 150 people and written 110 stories. Our work would never have received so much support and coverage if not for the attention we attracted through social networks.