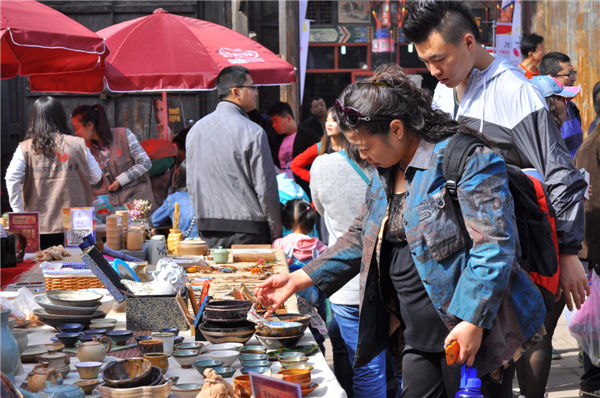 In October 2014, Xiao Xu organized a craftsmen fair in Shanxi's Pingyao city through online social networks. [Photo provided to China Daily]
Xiao Xu, 32, has been making facemasks used in traditional Shanxi opera for more than a decade. He enjoys the art form, even though it's not as popular as Peking opera, and each mask takes 18 to 20 steps and more than a week to make.
"I didn't care much about displaying my work on social media until one time I posted some photos of a mask and received more than 2,500 'likes' within an hour. After that, I promoted everything on the Internet. In October, I organized a craftsmen's workshop through a social network, and attracted more than 100 artists to Pingyao to display and sell their works," he said.
Near Xiao's studio in Pingyao, an ancient Shanxi city with a history dating back 2,700 years, a large number of elderly craftsmen are struggling to make a living, and many traditional arts and crafts are in danger of dying out.
"Older people don't know how to use social networks, and many of them don't even use computers," Xiao said. "It's hard for them to pass on their techniques through the Internet."
According to Ku Zheng, executive director of He Gong Yi, an NGO dedicated to reviving traditional culture, making centuries-old arts and architectures interesting and relevant on the Internet is crucial to their survival, but the work is challenging because the art forms are old, complicated and unpopular. However, a recent success came last month when the NGO set up an online fundraising campaign to help Li Baofeng, an elderly Si Zhou Xi (a 200-year-old form of opera) performer, organize a show in Beijing.