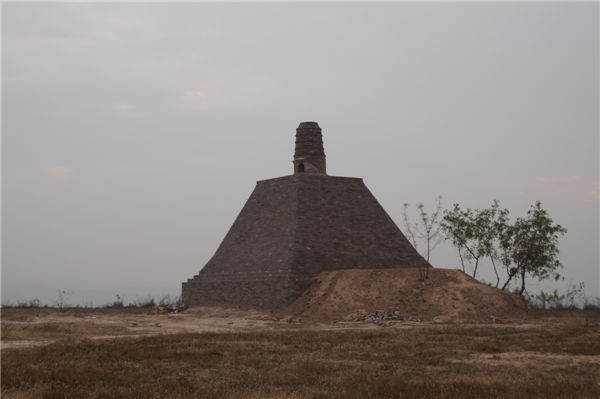 The fixed Wenfeng Pagoda in Shanxi province [Photo provided to China Daily]
Tang, an amateur historian who has traveled the length and breadth of China finding and protecting ancient architecture since 2006, admitted he had never seen a case like the pagoda, where the hits generated on social media attracted the attention of the local government and resulted in the building being repaired so quickly.
"If it weren't for the Internet and social networks, who would know or care about a collapsing tower in a remote village? I used to write letters to the local authorities when I discovered endangered architecture, but I never received any feedback. However once it develops online, public opinion can prompt the authorities to take steps," Tang said. "Cultural heritage sites from China's long history are disappearing, but using the Internet, especially social networks, we can protect, and even renovate, them."
According to an 2011 archeological survey, the last carried out in China, in the the past three decades more than 40,000 immoveable cultural relics have disappeared at an average of more than 1,000 every year.
Tang said Shanxi province has 280,000 sites of ancient architecture, more than any other province, and because Qixian county is famous for its large number of relic-rich resources, the Wenfeng Pagoda and several other endangered sites were in a long line of historic buildings awaiting repair.
"The bad news is they can't wait too long. They need greater attention and support, which is something we can generate on the Internet," he said. Since 2012, the number of people following him on Weibo has grown from 100 to more than 10,000, and 16 of the 30 endangered sites he has posted have been repaired.
"Social networks bring these historic sites from the remote mountainous areas to center stage," he said. "It's all about attracting attention."