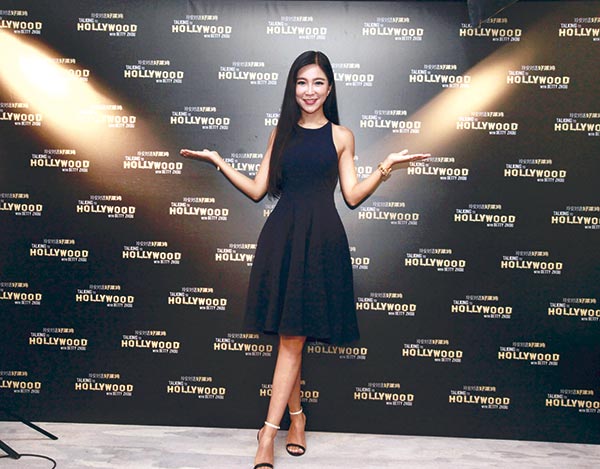 Betty Zhou arrives at Shanghai Airport to promote the release of Terminator Genisys in China. [Photo provided to China Daily]
Realizing that she was the last to arrive at a dinner event for the cast and crew of The Man with the Iron Fists, Betty Zhou quickly ducked into the last available seat and settled down among some of Hollywood's biggest stars, including American Chinese actress Lucy Liu and Academy Award winner Russell Crowe.
The function was a big deal for Zhou, whose supporting role in the movie as a prostitute-cum-assassin marked her debut in a major Hollywood film. Her first appearance in an American production was in the 2008 television film Kung Fu Killer, a somewhat forgettable B-grade action flick featuring the late David Carradine as a monk on the hunt for the killers of his Grandmaster.
Brief introductions and greetings were exchanged, and the talkative actress soon found herself exchanging friendly banter and jokes with everyone around her. She was hardly a recognizable figure in the glitzy Hollywood scene but Zhou has the uncanny ability to connect with others, including her star-studded posse, courtesy of an irresistible enthusiasm that makes the pint-sized Jiangsu native seem larger than life.
About 30 minutes into dinner, Zhou decided that she would ask the person sitting next to her about his role in the film, and it was then that she realized why nobody wanted to take the seat she was on.
The man was film director Quentin Tarantino.
Fortunately, Zhou was spared the embarrassment-she didn't get to ask the director of the movie she'd be starring in, "So, what exactly do you do?"
That might have resulted in a very awkward end to the evening. Or her career, for that matter.
"Just as I was about to ask the question, this woman walks into the room and goes 'Quentin!' before she proceeds to shake his hand. I didn't talk for five minutes after that," chuckled Zhou. "While the incident left me a little scared and nervous, it also made me realize that sincerity is the most important quality to have. Just being yourself is the best way to communicate with people."
Zhou's knowledge of Hollywood has improved by leaps and bounds since that incident. As the host of Talking to Hollywood with Betty Zhou, she has rubbed shoulders with the likes of Arnold Schwarzenegger, Tom Cruise, Adam Sandler and Zoe Saldana. Created by a host of big names such as Paramount Pictures, Universal Pictures, Sony Pictures Entertainment and Walt Disney Studios, the show gives Chinese audiences an exclusive and intimate look into the world's largest entertainment industry. It also represents an attempt by the Americans to tap the rapidly growing Chinese market.