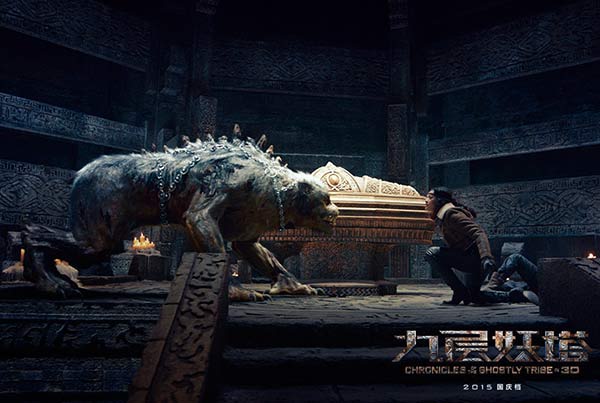 A scene from Chronicles of the Ghostly Tribe, box-office hits during the recent holidays. Photos provided to China Daily
The National Day week has provided rich pickings for local filmmakers with homegrown movies overcoming competition from Hollywood, Xu Fan reports.
The challenge from Hollywood has been a longtime concern for Chinese filmmakers.
But the overwhelming box office returns for domestic titles in the just-concluded National Day holiday period have cheered them immensely.
The takings for homegrown movies on the first day of the holiday, Oct 1, was 302 million yuan ($47 million) or 95 percent of the 315 million earned that day. It was also up 54 percent from the single-day record of 205 million yuan for the same period last year.
On Wednesday, the figures from box-office tracker Cbooo.cn showed that the takings for the past seven days, a traditional golden week for theaters, were nearly 1.8 billion yuan, up 67 percent from last year's 1.08 billion yuan.
From Oct 1 to 3, the charts were led by the road comedy Lost in Hong Kong, which brought in 1.45 billion yuan. It was premiered across the country on Sept 25.
The film's strong box-office haul is not a surprise for industry watchers as it is the sequel to Lost in Thailand, which earned 1.27 billion yuan in 2012, making it the highest-grossing Chinese movie in two and a half years. The record was broken by the live-action animated movie Monster Hunt in mid-September.
While part of its success can be attributed to the earlier movies-Lost on Journey (2010) and Lost in Thailand (2012)-the new movie has a stellar cast.