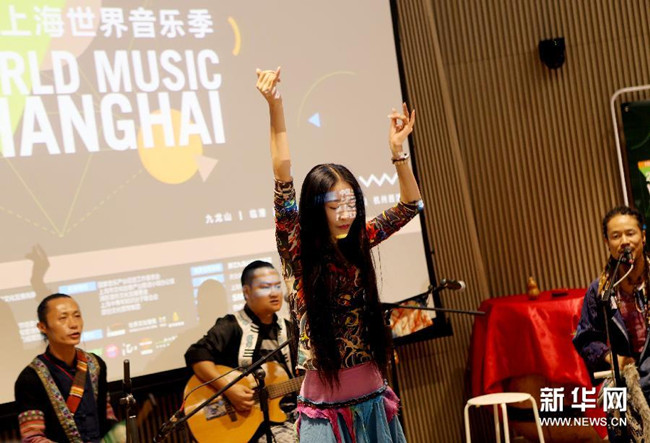 The 17th China Shanghai International Arts Festival is offering a 20-fold increase in its number of outdoor performances this year. [Photo/Xinhua] 
From African drums to the hurdy-gurdy, World Music Shanghai promises 21 bands from 13 countries, including China, Spain, Cuba, and Kazakhstan. It's part of this year's China Shanghai International Arts Festival.
World music encompasses a number of styles including traditional and neo-traditional music, as well as music that contains more than one cultural tradition.
Consisting of six musicians from different ethnic minorities, "Herdsmen" is one of the bands taking part in this year's World Music Festival. Musicians say they like the inclusive nature and elasticity of world music.
Yang Guanglei, artistic director of World Music Shanghai 2015, said:"Music can be a tool to let off steam, but the tranquility and ideas that people get is also important. Those unique and special elements can bring much inspiration when they collide with modern music today."
The festival will welcome the farewell performance of 75-year-old African drum master Famoudou Konate. It will also include German musician and composer Stephan Micus, Cuban A Capella group "Vocal Sampling", and Spanish hurdy-gurdy player German Diaz.
"I first got to know about world music through CDs. Then I realized that it's completely different to hear them live, because the music resonates with your body in a really special way," said Sun Mengjin, music critic.
There will be performances from October 1st to 18th at venues including the Shanghai Grand Theater and the New Hongqiao Central Park. Tickets are already available for sale. For the first time, the festival is stretching to neighboring Zhejiang Province, including shows in Hangzhou's Xixi Wetland Park and Pinghu's Jiulongshan Holiday Resort.