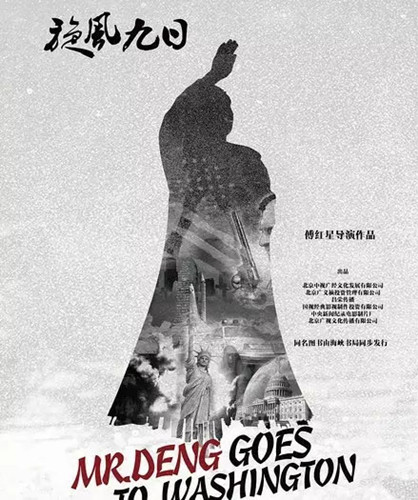 A poster of the film Mr. Deng Goes to Washington. [Photo/china.com.cn]
A film depicting the story of Chinese leader Deng Xiaoping's 1979 historic visit to the United States has been shown at Harvard University.
The 94-minute film, Mr. Deng Goes to Washington, is the first big-screen production chronicling Deng's nine-day visit, which occurred about one month after China officially established diplomatic relations with the United States.
Fu Hongxing, the director, says the film aims to help Americans know more about the history behind the establishment of diplomatic ties between China and the US and better understand current global order.
"The reason we chose to play the film in the U.S. is that I hope Americans can understand from history how to get rid of the rigid thinking regarding bilateral ties. It will encourage audiences to think about the current Sino-US relationship, global relations, and world order,"
Deng Xiaoping, who was vice-premier at the time of his historic visit, made stops in Houston, Seattle and Washington DC.
Some audience members have been moved by the message of the film. Li Ren is one of them. He is a visiting Chinese scholar to Harvard University.
"One aspect of the film that touched me was its portrayal of the generations of people who made contributions to improving the country and creating a beneficial environment. Our generation should learn from them and continue their mission."
The film also stimulated discussion on the current state of Sino-US relations and Chinese President Xi Jinping's visit to the US.
Conal Doyle, an American who has seen the movie about Deng's visit, expresses his expectations on the relations between the two countries.
"It's a co-operation between the United States and China. This is the most important relationship between two countries in the world... And that's one of the great things about having these kind of meetings is, at least, you're able to have a direct, face-to-face meeting, and they're able to resolve some of those issues or at least maintain a close working relationship."
The film was released earlier of this year to commemorate the 35th anniversary of the establishment of diplomatic relations between China and the US.