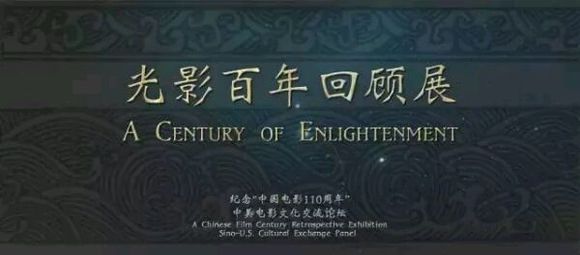 A poster of the Chinese film retrospective exhibition [Photo/DCCFF's official website]
A Century of Enlightenment, a Chinese film retrospective exhibition, will kick off on Friday in the US capital Washington D.C. During the one week activity, a forum on Sino-US cultural and film exchange will also be held.
Sponsored by the D.C. Chinese Film Festival (DCCFF), nineteen Chinese films, which represent different stages of film development in China, will be screened in E Street Cinema in turn to celebrate the 110th birthday of Chinese film. Through the exhibition, Americans can get a deeper understanding of the history and characteristics of Chinese film.
In 1905, the first Chinese film, Dingjun Mountain, was produced by Feng Tai Photography Studio in Beijing. From motion pictures without sound to high technology big screen films, from black and white stories to colorful life, China has been through a vivid history of film production.
DCCFF organizing committee spent a whole year to carefully select the exhibiting films from hundreds of Chinese films, with the help from experts and scholars in the China Film Archive, Peking University as well as Beijing Film Academy.
On the screening list is Springtime in a Small Town, first released in 1948. After digital restoration, the audience can enjoy the enchantment of this representative of early Chinese film. Monkey King: Hero is Back, the highest grossing animated film in Chinese cinemas, will also make its debut in the US.
In addition, DCCFF hopes to bring about more new thoughts on Chinese films through the cutting-edge panel discussions in the upcoming forum. Several noted film production experts, worldwide Chinese film archivists and enthusiasts from local societies will attend the forum, such as Professor Li Daoxin from Beijing Film Academy and the producers of the Batman series.