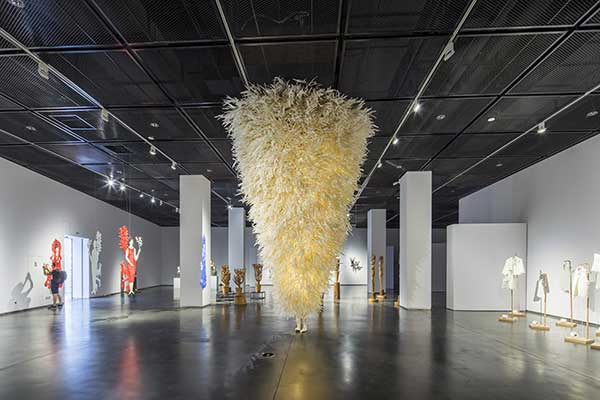 The inaugural exhibition of MOCA Yinchuan features exchanges between the East and West.[Photo provided to China Daily]
The blockbuster art show 15 Rooms, which opened at the Long Museum in Shanghai on Thursday, has created quite a stir.
At the live-art exhibition, artists and artist groups from different cultural backgrounds present artwork through performances in the 15 rooms. It drew much attention when debuting as 11 Rooms at the Manchester International Festival in 2011. It has invited one more artist to participate each year, and 14 Rooms was staged at Art Basel last year.
The exhibition will be followed by more anticipated projects at the private museum. The exhibition, Eternity-Mawangdui Art of the Han Dynasty, to be held at the end of October, will display artifacts uncovered from the Mawangdui Han (206 BC-AD 220) Tombs and housed at the Hunan Provincial Museum.
A dozen national treasures will be on show outside Hunan for the first time, and in return for this loan, the Long Museum will take its "Red Classic" collection to Hunan after the provincial museum completes its renovation and reopens.
Founded by billionaire-collector couple Wang Wei and Liu Yiqian, the Long Museum boasts a fine collection of "Red Classic" art-oil paintings that reflect the course of Chinese communist revolution in the 20th century.
Since its inauguration in 2012, the Long Museum, with branches in the city's Pudong and West Bund areas, has boosted its calendar by cooperating with counterparts both in China and abroad.
Wang Wei, who manages the two venues, says that in addition to rotating its collection, the museum also exchanges it with State-owned institutions to enrich each other's displays.
"Not only do we split the huge costs of transportation, but we also share academic research on the collections. This will further our cooperation in many aspects," Wang said at the Third China Private Art Museum Development Forum.
The forum, which closed on Sept 22 at the newly opened MOCA Yinchuan, in the Ningxia Hui autonomous region, was attended by dozens of founders and managers of private art institutions in China and overseas. One of its aims is seeking sustainable ways for private museums to exhibit.
The boom in China's private art institutions has been overshadowed by inadequate displays and a lack of carefully curated exhibitions. The attempt to trade collections with other museums, both private and State-owned, or introduce their exhibitions was viewed by forum participants as a possible solution.
Many say a circulation system needs to be developed to make collections more accessible to the public without a trip to art hubs like Beijing and Shanghai.
Few top-notch players are able to extend their influence outward by staging international art shows.