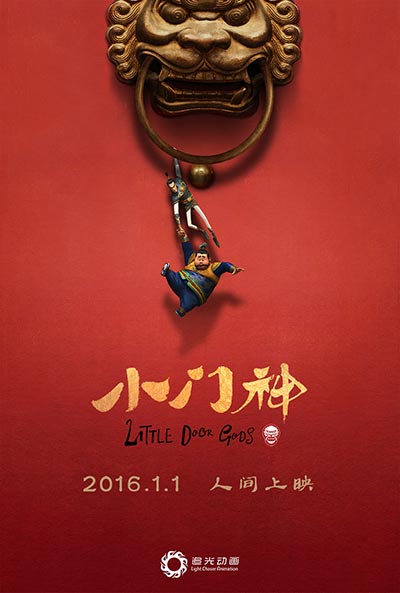 Poster of Little Door Gods. [Photo provided to chinadaily.com.cn]
Little Door Gods, an animation film about Chinese celestial beings, will be screened across the nation on New Year's Day next year.
The film by Light Chaser Animation will follow the journey of two door gods in a contemporary Chinese town where traditions and folklore are slowly vanishing. Traditionally, the gods' images are pasted on front doors and worshiped in the hope that they will protect each household.
"The story beckoned to me when I visited Bangkok and saw two ancient statues erected in a glamorous environment. They don't go together," Wang Wei, the director, said yesterday in Beijing.
"So I wanted to find out through this film about the value of the ancient gods today," Wang said. The 100-minute film will feature the voices of Chinese stars including Gao Xiaosong and Bai Ke. It will also be available overseas.
"We wanted to create something for everyone. We had English and Chinese scripts from the start," Yu Zhou, the film's producer, told China Daily.
"The story is about meeting challenges and showing one's courage. These are universal themes that we believe domestic and overseas audiences will love," Yu said.
Revenue from China's domestic animation films grew more than 65 percent in 2014. It's one of the fastest growing sectors in the film industry.
"There is still huge room for the animation industry in the country, like having world-class studios that match Hollywood," Yu said.
Related:
China may enter China-France co-production Wolf Totem for Oscars