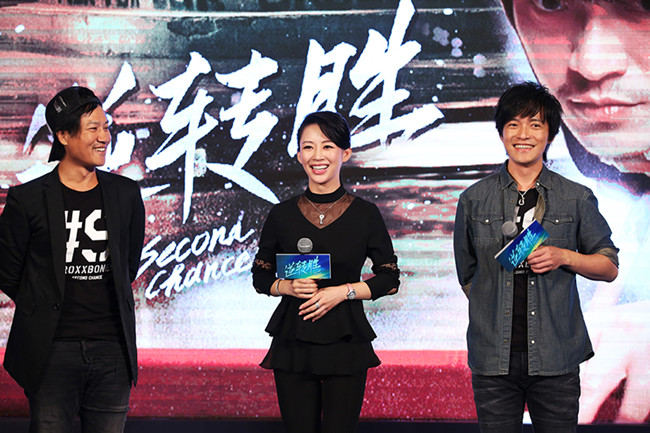 Pan Xiaoting (C) and Wen Shang-yi (R) attend a media event of the upcoming film Second Chance. [Photo provided to chinadaily.com.cn]
An upcoming film could be of interest to both fans of Taiwan rock band Mayday and sports enthusiasts.
Second Chance stars Pan Xiaoting, the first Chinese to win the Women's Professional Billiard Association's Tour Championship of 2007, and Mayday's lead guitarist Wen Shang-yi or "monster" as he is popularly called. The film, which debuted in Taiwan last November, hit mainland theaters on Friday.
The drama shows a family's revival of fortunes by playing pool.
"I find the key is to treat your pool cue as a good friend. And then you'll find the moves and beats harmonious with it," Wen said at a media event on Wednesday.
To director Kung Wen-yen, the film may resonate with people who have gained and lost a lot in life.