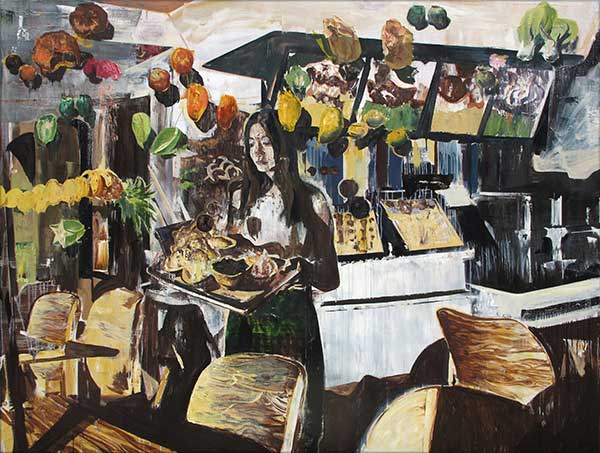 Exhibit-A Meal, oil on canvas by Gong Chenyu, is one of the works on display at Beijing's Today Art Museum.[Photo provided to China Daily]
Art Nova 2015, an exhibition for young artists from China and abroad, will be held in Beijing next week.
About 350 local and foreign artists are expected to participate in the annual event that started in 2011, encouraged by the increasing displays of paintings, sculptures, installations and videos of students of the fine arts.
Works by young artists have caught the attention of art agents in recent years. Ivy Art, funded by private art agents, and Youth Plus, supported by National Endowments for the Arts, a government agency, hosted such shows in Beijing this month.
An Ivy Art show was held at Today Art Museum in Beijing from Sept 12-21, drawing a large number of visitors, including well-known artists, curators and critics. The gallery exhibited more than 300 pieces by 126 artists.
"For young artists, it is the best and worst of times," says Fang Datong, who founded Ivy Art to fund and promote young talent through exhibitions.
He explains that while young artists today have enough opportunities to promote their work, at the same time, they can easily get lost in the art marketplace.
According to Report on Global Market 2014, co-released by Artron and Art Price in March, the demand for young artists' works is on the rise in China.
More global auction houses are opening such sections as well.