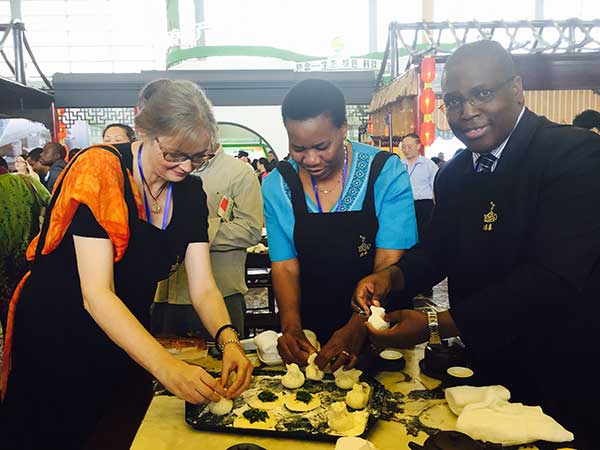 Foreign delegates to the food festival attend a session on making Yangzhou steamed buns.[Photo by Liu Zhihua]
The influences of culture and history on food traditions are felt in every locale, and earlier this month, people in Yangzhou, Jiangsu province, enjoyed a festival that showcased not only their own culinary specialties but also those of other places along the ancient Silk Road, including Italy and Turkey.
Yangzhou is a traditional center of Huaiyang cuisine, one of China's four major cooking styles. It is famous for its light, fresh taste and exquisite cuts, and now many time-honored restaurants, including Yechun and Fuchun teahouses, have become must-visit spots for tourists who want to have a taste of authentic Yangzhou flavors.
Locals follow the practice of "skin wraps water in the morning, and water wraps skin in the evening", that is, to eat steamed buns and tea in the morning, and to enjoy time in bathhouses at evening.
The city's signature breakfast is often composed of crab-roe soup dumplings, sanding bao (steamed bun stuffed with diced pork, chicken and bamboo shoots), jade-colored steamed dumplings that are stuffed with green vegetables, and qianceng cake, literally thousand-layer cake. All are very delicious, especially when accompanied with a cup of green tea.
A local friend told me that Yangzhou steamed buns or dumplings use a traditional method to ferment wheat flour dough, in order to make the skin of the buns and dumplings soft but chewy.
My favorite was qianceng cake, which tasted slightly sweet and was soft as cotton, even once it became cold.
The pickled mushroom with shrimp paste was also good, with its chewy, meaty and juicy texture, and savory flavor.
Tang gansi, or boiled scaly tofu threads, a famous Huaiyang dish, should also be tried in Yangzhou. Chefs slice tofu into very tiny shreds, then soak the shreds in boiling water before dressing them with specially made seasoning sauce.