Yangzhou food exhibition for cultural exchanges
(chinadaily.com.cn)
2015-09-14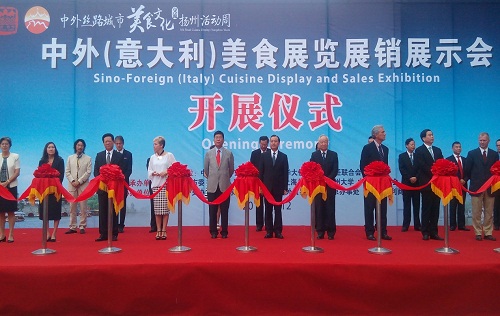 Opening ceremony of Silk Road cuisine exhibition in Yangzhou, Jiangsu, on Sept 12 [Photo provided to chinadaily.com.cn]
There was an exhibition of cuisine from countries along the Silk Road in the city of Yangzhou, Jiangsu province, on Sept 12, which attracted more than 18,000 people. The exhibition, as part of the Silk Road Food Festival, gives local people an opportunity to enjoy delicacies from different countries without leaving their homes.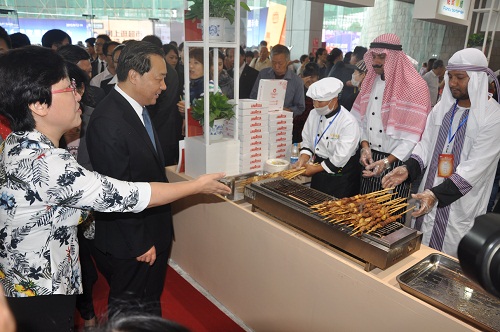 Visitors at a booth for Arabian barbecue[Photo provided to chinadaily.com.cn]
There were delicacies from China, ancient Rome, Persia, the Southeast Asia, and elsewhere, in six display areas with 385 stands – 48 for Chinese cities, 36 for Italian specialties, 48 for food companies from Silk Road countries, 31 for Chinese and other countries' delicacies, 71 for companies of the Yangzhou Food Industrial Park, and 50 for agricultural products in Yangzhou.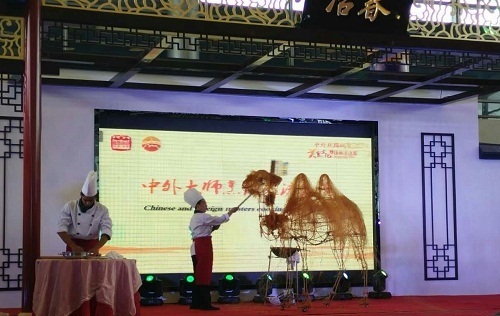 Chinese and foreign chefs show their cooking skills. [Photo provided to chinadaily.com.cn]
There were Chinese and foreign chefs showing their cooking skills and exchanging culinary ideas and hundreds of delegates from China and other countries learning how to make Yangzhou baozi (steamed stuffed bun), one of the local specialties, to help both Chinese and foreigners understand Yangzhou cuisine.
Some officials said that the event will increase cultural exchanges with Silk Road countries and help promote cooperation in the economy, trade and tourism.
Okroshka

Okróshka is a cold soup of Russian origin. The name means to crumble into small pieces.