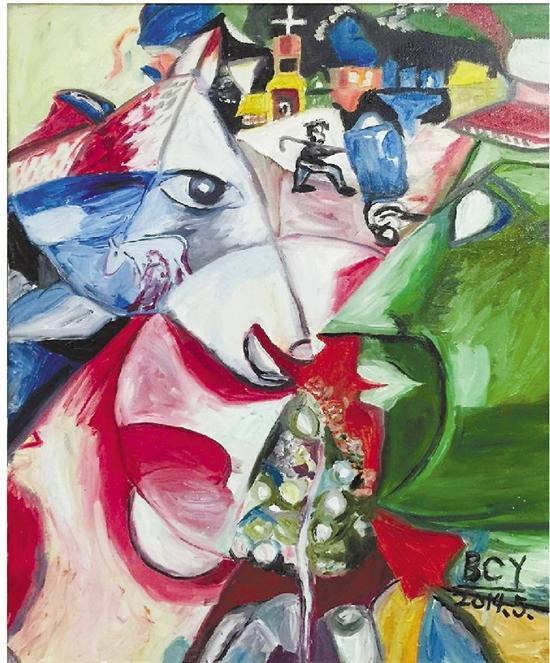 A piece of work by Bi Changyu. [Photo/Chengdu Business Daily]
Works by a young painter have recently become a hit on Chinese social media. To people's surprise, the painter turned out to be just 19 years old - and autistic.
Bi Changyu, born in Shaoxing, was diagnosed with autism at the age of three.
"When he reached three, we started to notice that he seemed to be a little different to regular kids. He wasn't outgoing and did not communicate with us," Bi Guangjun, Bi Changyu's father said. "He couldn't have normal verbal communication with people around. He moved a lot and couldn't sit quietly."
When Bi Changyu was seven, his family took him to Beijing for treatment. One teacher told them painting may help autistic children feel calm. At first Bi Changyu was told to draw simple lines, but to everybody's surprise, when Bi saw an apple next to him, he slowly drew a circle with a stalk. Before this, he had never painted anything before.
Bi's father said that at the beginning, he just wanted painting to help his son to feel calm. However, painting changed everything. Bi Changyu could sit for hours once he picked up the paintbrush. "Only painting can make him quiet. When talking about painting, he's so happy," said Bi's father.
In recent years, Bi Changyu's paintings caught more and more people's attention. In the exhibition "Our World" held at Peking University in 2011, amazed by his works, the renowned Chinese painter Chen Danqing named him "Chinese Picasso". In 2012, his painting "Princess" became part of Inside-out Art Museum's collection. At charity auctions held in Beijing and Hangzhou, his works are also frequently sell for tens of thousands yuan.
Bi Changyu's story and paintings have touched a lot of people. Bi's father said that although his son's works have been recognized by society, there are still a lot of autistic children who do not receive enough attention. His family wants to use his son's paintings as well as the income generated to help more families with autistic children and to let them find hope.