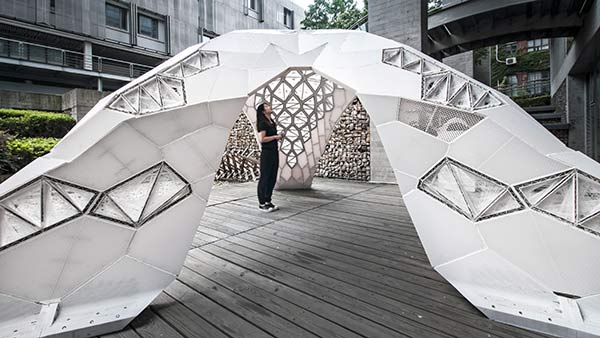 The 3D printed architectural structure VULCAN at Parkview Green. [Photo provided to chinadaily.com.cn]
The world's largest 3D printed architectural structure, VULCAN, highlighted at the Beijing International Design Week and was unveiled at Parkview Green on Friday. Developed by Laboratory for Creative Design, the innovative 3D printing design technology was made by a team of 20 working 15 hours a day for an entire month.
VULCAN takes on the form of an arch consisting 1,023 pieces of 3D printed units. The installation is 3 meters high with a radius of 6 meters. It's composed of three symmetrical parts.
According to the designers, the name VULCAN comes from Latin meaning "volcano". This symbolizes a sense of fear and respect for the force of nature while suggesting a sense of courage for human civilization.
Technology and 3D printing showcased a fusion of 3D printed artworks titled "Body without Organ" with splendid costumes of fashion brand NE•TIGER. A joint collaboration by WAX Architects,ASW Workshop and Nanjing Research Institute of Additive Manufacturing, "Body without Organ" explores the topic of "What human bodies are like".
As a major location of Beijing Design Week, Parkview Green prepared many other exhibiting items for visitors.