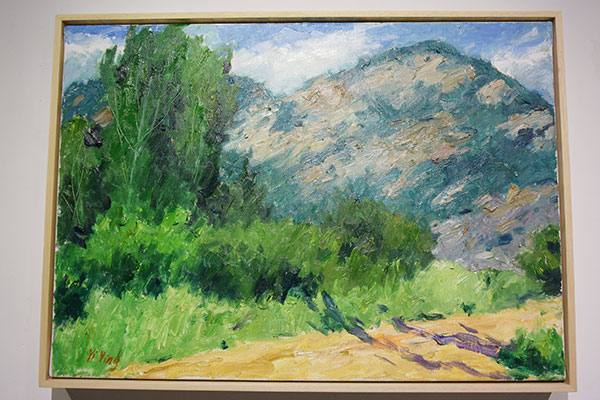 Yi Ying's painting Afternoon on display at his solo exhibition in Beijing, Sept 25, 2015. The exhibition will run through Oct 25. [Photo by Wei Yuncheng/provided to chinadaily.com.cn]
Art critic Yi Ying is displaying more than 50 landscape paintings at the CaoChangdi art zone in Beijing. Following Yi's solo exhibition in Shanghai last year, Yi is now making his Beijing debut. Most of these paintings are created by Yi when he was sketching with his students in the suburbs of Beijing.
Yi has been an art critic for many years. He studies and translates western art history and theories while engaging in contemporary art. With a high academic standing, he is now a professor at the Central Academy of Fine Arts in China. Fan Di'an, head of the Central Academy of Fine Arts, says "An art historian, as Yi Ying used to be, he is now taking shape as a painter."