Eye on the red carpet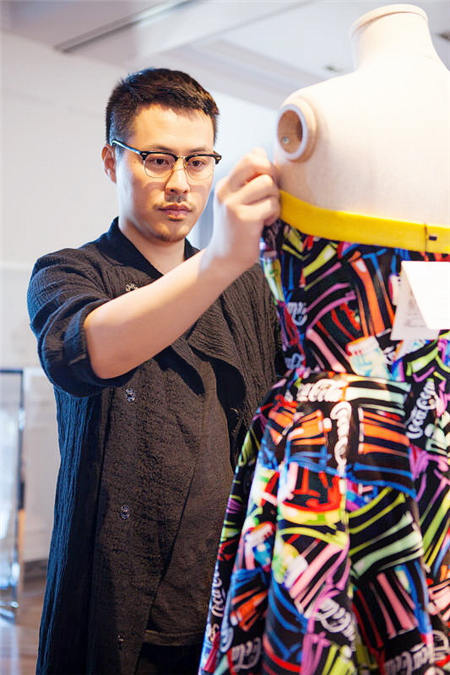 Christopher Bu works on the collection featuring jackets, skirts and dresses, inspired by Coca-Cola's logos, shapes and palette. Photos provided to China Daily
Christopher Bu, the man behind Fan Bingbing's spectacular look, pays tribute to the Coca-Cola bottle with a new collection. He tells Sun Yuanqing, he likes to make clothes for women who want to stand out.
You might not know Christopher Bu, but you must have seen some of the dramatic looks he has created for Chinese actress Fan Bingbing, which made her a star on international red carpets.
His latest creation for her is the Forbidden City-inspired gown that she wore to the Met Gala in New York earlier this year. It put her on numerous best-dressed lists.
These signature looks have not only transformed Fan into a style icon, but also made Bu one of the best-known emerging designers in China.
Bu recently showed a new capsule collection in collaboration with Coca-Cola in a pop-up store in Galeries Lafayette Beijing.
The collection is dedicated to 100 years of the contour Coca-Cola bottle, a symbol of pop culture. It is also part of celebrations for the second anniversary of Galeries Lafayette Beijing, a one-stop shopping destination for both global luxury brands and indie Chinese designers.
The collection features dozens of jackets, skirts and dresses, all highlighting Bu's signature lively prints inspired by Coca-Cola's logos, shapes and palette.