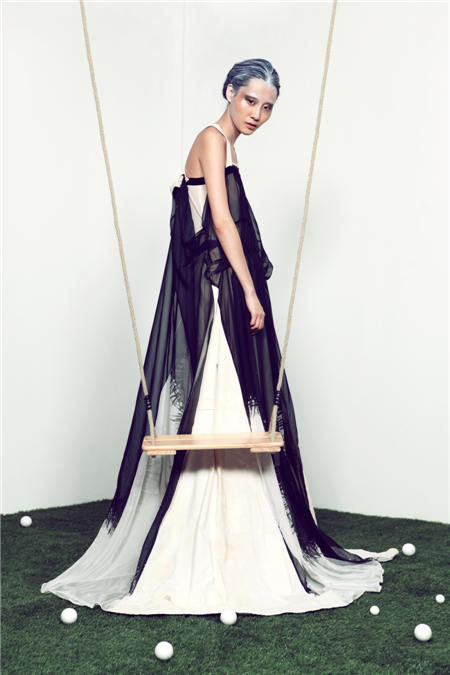 This dress is made from used clothes after cleaning, disinfection, tearing down, redesign and restructuring. Provided By Reclothing Bank
Textile recycling initiatives by companies and individuals are reducing Shanghai's huge pile of waste.
There are only two mountains in Shanghai. The first is a popular travel destination for locals in the Sheshan National Tourist Resort in Songjiang district. The other has the ignominy of being a mountain of trash.
Shanghai has a daily waste output of 22,000 tons, and about 70 percent of it is channeled to the Laogang Landfill, which occupies 4.1 million square meters of space near the East China Sea in Shanghai's Pudong New Area. The result is a massive pile of trash that stands as an indication of a problem that requires urgent attention.
"The large amount of disposed resources require us to pay serious attention to recycling efforts, such as offering more policy support, establishing an efficient recycling system, and increasing the added value of recycled products," says Sun Huaibin, deputy secretary-general of the China National Textile and Apparel Council.
There are numerous ways that the city can reduce its output of waste, and recycling its discarded textile products is one possibility. According to statistics from the China National Textile and Apparel Council, recycling all discarded textile products would generate the same amount of energy as 24 million tons of crude fuel, equivalent to more than half the annual output of Daqing Oilfield, one of China's largest oilfields.
Apart from energy savings, recycling clothes can also help reduce China's carbon footprint. According to a report by Xinhuanet.com, textile recycling can cut carbon dioxide emission by 80 million tons every year.
However, less than 10 percent of discarded textile products are currently recycled in major cities such as Shanghai and Guangzhou, Guangdong province.