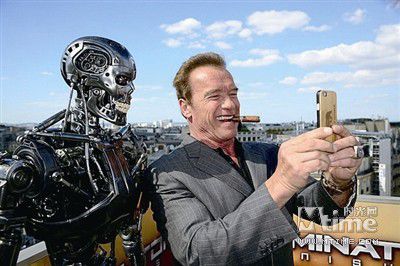 Actor Arnold Schwarzenegger wins the Golden Icon Award during the Zurich Film Festival in Switzerland. [Photo/Mtime.com]
Action star Arnold Schwarzenegger has been honored at the Zurich Film Festival.
The 68-year-old actor received the festival's coveted Golden Icon award, celebrating his four decades in film.
Upon receiving the award, Schwarzenegger stated that this honor was beyond his dreams.
"I had dreams of becoming the world champion in body building, I had dreams to become a movie star, I had dreams to become world famous and rich. I had dreams to be the best in everything that I did, but I didn't think about this."
In addition to picking up his prize, the actor was also at the festival to promote his latest movie, Maggie.
In the film, Schwarzenegger is a father, looking to protect his daughter from a virus that is turning people into zombies.
During the premiere, the former Governor of California told his audience that his new movie required a different kind of acting than what he was normally used to doing.
Schwarzenegger hopes audiences will be pleasantly surprised by the vulnerability he shows on-screen.